October 5, 2017
Korzo theatre, The Hague
20:00-23:00
Entrance: 5 eur
Free for We Are Public members
Including performances by Cathy van Eck, Peter Bosch & Simone Simons, BMB con., OKAPI, iii and Ymke Vertelman.
No Patent Pending is a nomadic performance series presenting radical interdisciplinary practices that engage with sound, image, space and the body. Imagining new tools to articulate everyday phenomena, extending the body, remapping sense perceptions, hacking and reinventing existing media and codes, creating time and space for events which find their preferred storage medium in the memory of participants.
This edition of No Patent Pending concludes iii's "Connect the Dots", a program through which we invite the audience to take part in playful and open-ended experiences. 
Tickets for No Patent Pending #29 are included with the day program "The Craft of Experience Design". Additional tickets will be available at the door.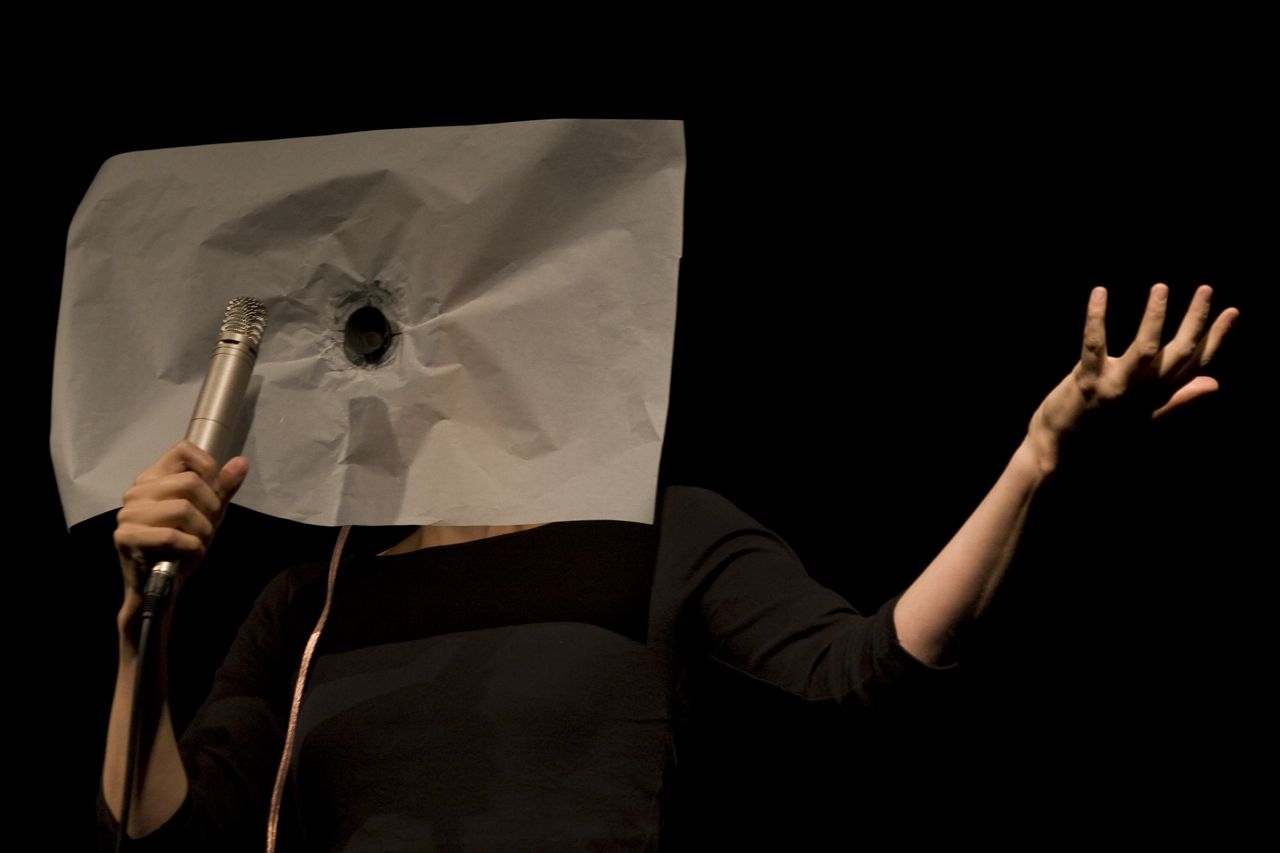 Cathy van Eck (1979 Belgium/Netherlands) is a composer, sound artist, and researcher in the arts. She focuses on composing relationships between everyday objects, human performers, and sound. Her artistic work includes performances with live-electronics and installations with sound objects which she often designs herself. She is interested in setting her gestures into unusual and surprising relationships with sounds, mainly by electronic means. The result could be called "performative sound art", since it combines elements from performance art, electronic music, and visual arts. Her work transcends genres and is presented at occasions as diverse as experimental or electronic music concerts, open air rock festivals, sound art gallery venues, digital art events, or performance art festivals.
Bosch & Simons is a duo consisting of artists Peter Bosch and Simone Simons. From 1985, the beginning of their collaboration in Amsterdam, they have been involved in performances, concerts and theatre productions. Since 1990, they have been focused on the development of autonomous "music machines".
BMB con. is a performance group working with sound, image, and whatever else they can get their hands on (including you!). BMB con. was initially formed in 1989 by Justin Bennett, Wikke 't Hooft and Roelf Toxopeus and acted mostly as a fixed trio. Since 2006 BMB con. is a collaboration between a BMB coreduo and different individuals and groups depending on the occasion.
OKAPI is a new musical laboratory in the 21st century. The ensemble consists of old instruments obscure instruments and contemporary instruments emerged from the shared need of 11 individuals to exchange musical languages ​​and sounds. Okapi is moving in its composition; sometimes all together, sometimes four men strong. It is a fairytale orchestra, founded with childishly simple sounds, melodies and harmonies, a fairy tale, until the most violent sound sprouting from unexpected instruments.
Ymke Vertelman is a 2017 graduate from the Interior Design department of the KABK whose research focuses on interaction between bodies in space. In 2014 she represented KABK at the Salone Del Mobile in Milan. For her graduation she presented an outstanding work addressing the issue of personal space, using a series of self-made, low-tech bodily extensions to limit and modulate the physical space between a dancer and his father.
No Patent Pending #29 is produced in cooperation with Korzo with the support of Stroom Den Haag, The Municipality of The Hague, the Creative Industries Fund NL and Prins Bernhard Cultuurfonds.