Tuesday, December 8th 2015
With Echo Ho, Wen Chin Fu, Mei-yi Lee, Mariska De Groot, Ludmila Rodrigues, SonoLab, Ana Smaragda Lemnaru, Leo Svirsky, Jeromos Kamphuis and Ivan Babinchak- Revquist.
Quartair, Toussaintkade 55, The Hague
Doors open at 19:00, starts at 19:30
entrance: €5
presented by iii in cooperation with Quartair.

No Patent Pending is a nomadic performance series presenting radical interdisciplinary practices that engage with sound, image, space and the body. Imagining new tools to articulate everyday phenomena, extending the body, remapping sense perceptions, hacking and reinventing existing media and codes, creating time and space for events which find their preferred storage medium in the memory of participants.
program details:
Echo Ho – Solaris Objectiveness
During her residency with iii in November 2015, Echo Ho will produce a cover version of Tarkovsky's 1972 movie "Solaris" that she will perform on her instrument "Slow Qin".
Echo Ho is a interdisciplinary artist and composer born in Beijing who lives and works in Cologne. Her artistic practice often shows a complex migrational context and conceptual links of culturally diverse materials and artistic disciplines, which range from mixed media, audio video installations, art interventions to performances. As a musician she works with field recordings, experimental electroacoustic composition, she performs live and collaborates with musicians from around the globe.
EchoHo ©Aurélien Foucault
Mariska de Groot – Sonografs
Sonografs is a analogue and mechanical performative installation wherein simple rhythmical body movements activate a pendulum drawing machine based on the 19th century Harmonograph.  The circular movements of the elements and the body become a ritual, noises of resistance are amplified and sound patterns are created by swinging speakers that scan the  images.
Intrigued by the phenomena and history of optical sound, Mariska de Groot (1982, NL) makes and performs comprehensive analog light-to-sound instruments and installations which explore this principle in new ways. Her work often has a reference to media inventions from the past, with which she aims to excite a multi-sensorial and phenomenological experiences in light, sound, movement and space.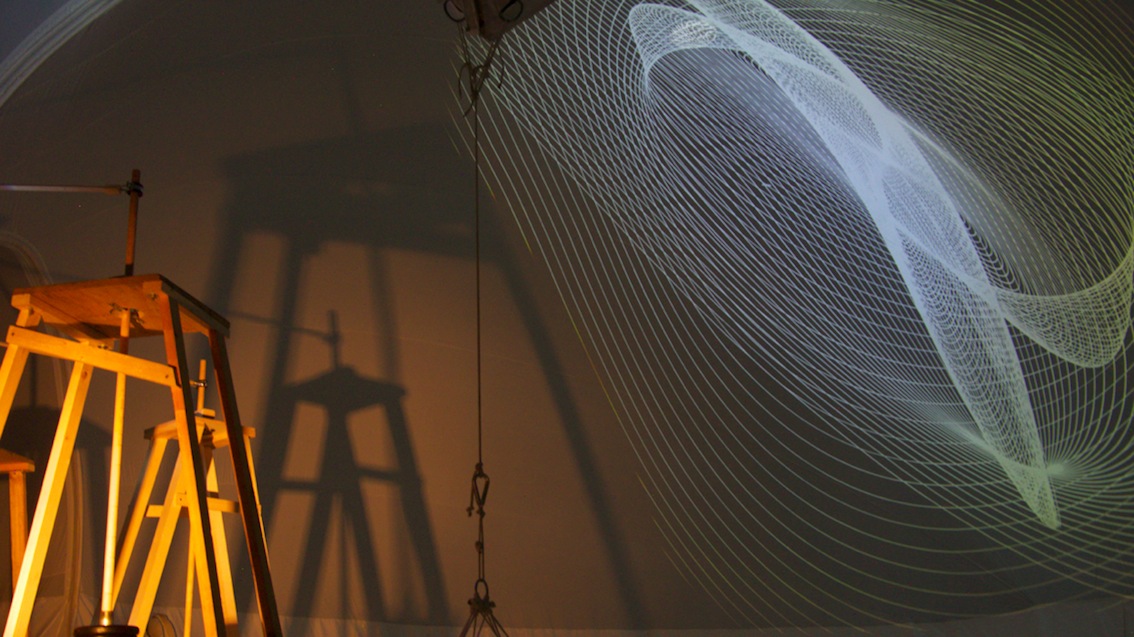 Wen Chin Fu – Sounding Sugar, Tang
performed by Mei-Yi Lee
Every material has its own hidden secret. By making, observing and listening we can find the entrance into this secret. Wen Chin Fu started experimenting with the acoustic potential of sugar in an abandoned sugar refinery in Taiwan together with Mariska de Groot. Tang is a percussion instruments made of crystallized sugar that was developed during this residency. In this performance the instrument Tang will be played by percussionist Mei-Yi Lee.
Wen Chin Fu graduated in 2006 from the Classical Music Department of Shih Chien University, Taipei, and continued her studies at the ArtScience interfaculty of The Hague, where she graduated in 2010. Her performances explore the relationship between physical movement, sound and the environment. A key element of her practice is concentration, which opens the senses for perceiving things through new perspectives.
Mei-Yi Lee is a percussionist and Performer based in the Netherlands. After achieved her bachelor degree at the National Taiwan University of Arts, she moves to The Netherlands to continue her postgraduate studies at the Royal Conservatory in The Hague. In 2013 she concluded the "Konzertexamen" degree under the guidance Marta Klimasara at the University of Music and Performing Arts in Stuttgart, Germany, with the support of the Fonds Podiumkunsten and Prins Bernhard Cultuurfonds from The Netherlands.
She is interested in experimental music and interdisciplinary practices combining dance, theatre and visual arts. Presently she is a member of SonoLab, Paper Ensemble, Mutu Ensemble in Holland and iOFloat in Taiwan.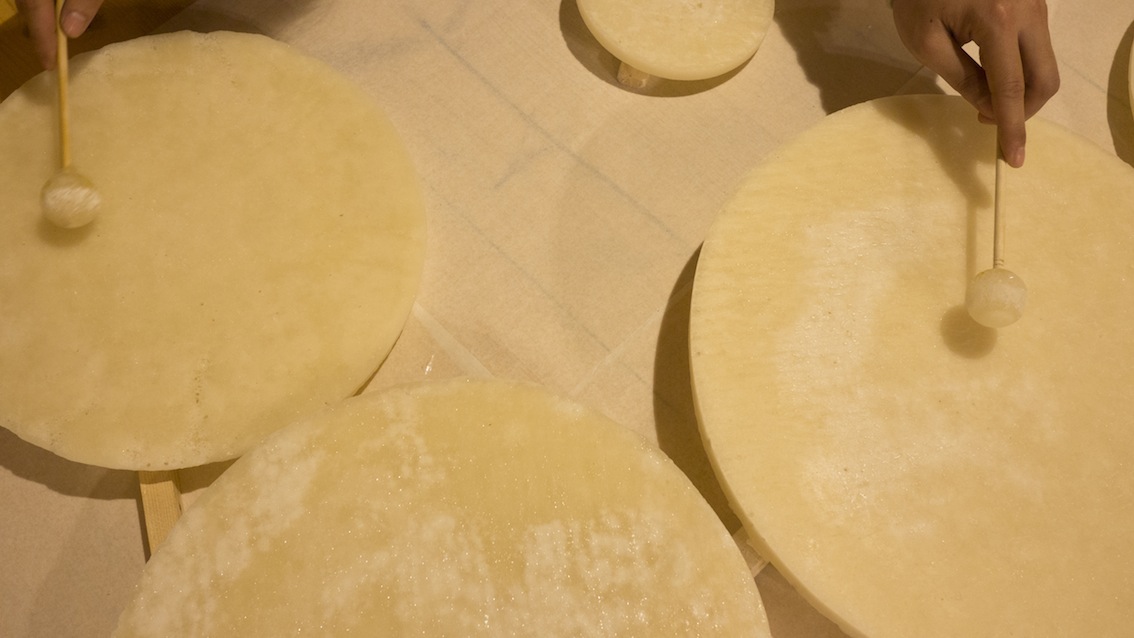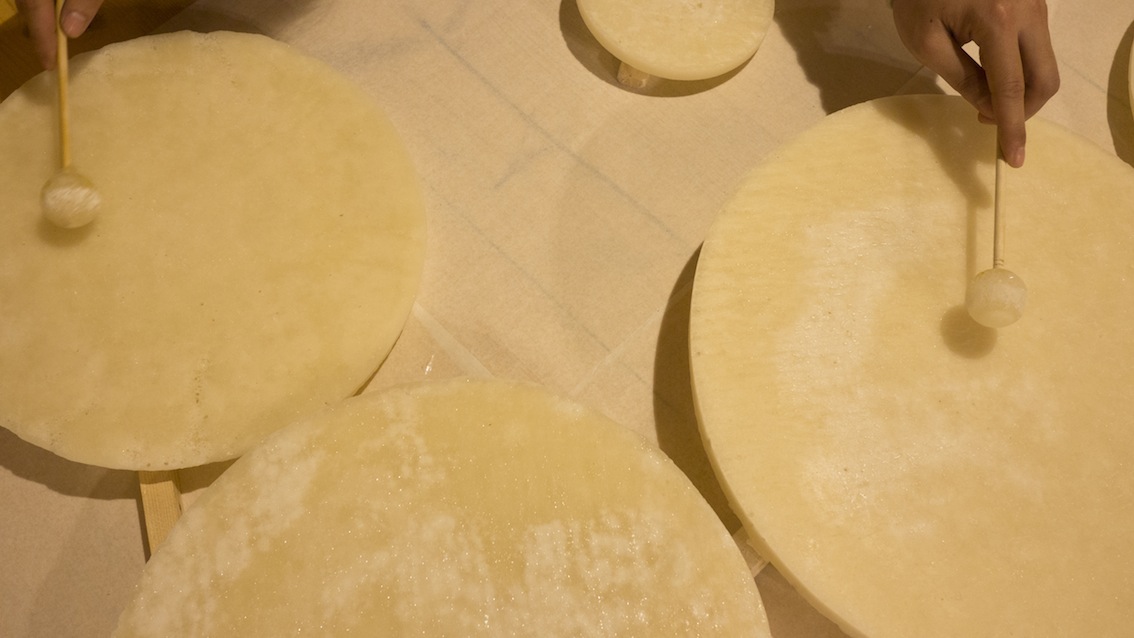 Ludmila Rodrigues – Polytope
Performed by SonoLab

Tractable geometry for the curiosity of the user. Polytope is an articulated net of tetrahedrons, built by rods of carbon fiber, which by its geometry allows a multitude of constructions and possibilities. The structure is designed for the interaction of one or more individuals, who can discover the possibilities of the object by handling it and moving through space. The strategy of the structure is to engage the users in an intuitive exploration of various shapes and positions.

Ludmila Rodrigues was born in Rio de Janeiro (Brazil, 1979). She has a degree in Architecture and Urbanism (at UFRJ, Rio, 2006) and in Arts from the Artscience Interfaculty (KABK-KonCon, The Hague 2013). She worked as Art History lecturer and artistic coach at NGO Galpao Aplauso (Rio de Janeiro, 2007-2009), and works as graphic and web designer freelancer since 2004.
As an artist today Ludmila researches way of interacting with the audience. She develops situations, spaces and devices for choreographing the public, generating spontaneous, collaborative actions in which she aims to enrich human communication.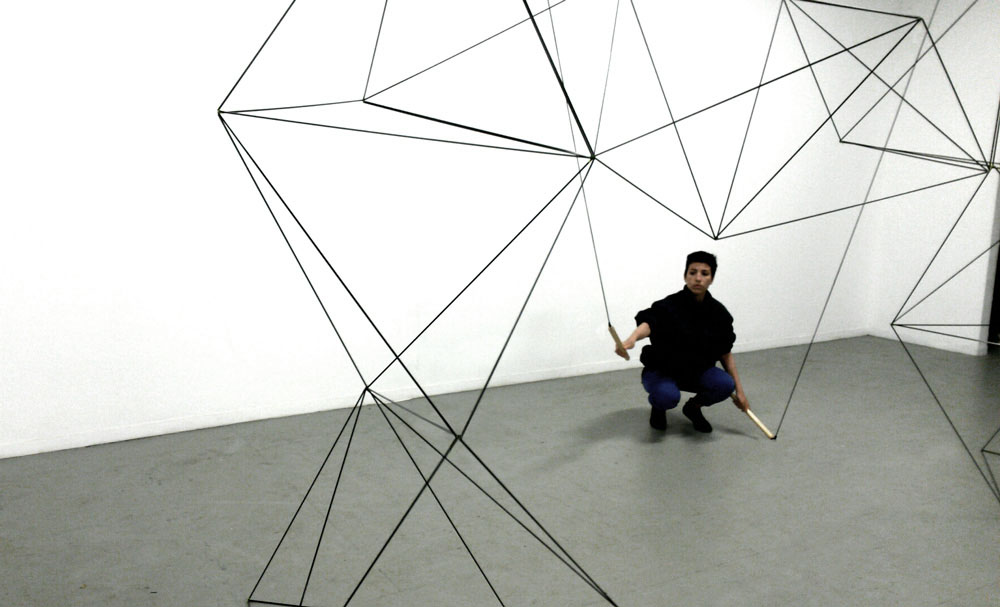 Ana Smaragda Lemnaru – Bow
for four performers, light sensors and light gags
performed with Leo Svirsky, Jeromos Kamphuis and Ivan Babinchak- Revquist
Four performers sit in a row, on their knees, with luminous gags in their mouths. They bow towards a sensor laid down in front of them. They each move within a coordinated system, passing a signal to one another. When their light is close enough to their sensor, a speaker plays a single tone. Then the performers slowly raise their heads, cuing the person next to them. This goes on for some time, until the performers silently agree to stop.
Ana Smaragda Lemnaru (b 1985, RO) is a visual artist based in The Hague, Netherlands and Bucharest, Romania. She graduated in 2008 in fine arts from the National Arts University Bucharest and in 2012 from the Master of Artistic Research at the Royal Academy of Arts in The Hague.
The concepts she is currently engaged with are futility and overpopulation, through performance, drawing and objects.
Her work has been presented works in venues such as: Nuitshuis, GEMAK, Loos (the Hague NL), Kadmium (Delft, NL), Noise Equals Noise (London, UK), Saint Denis University (Paris, FR)