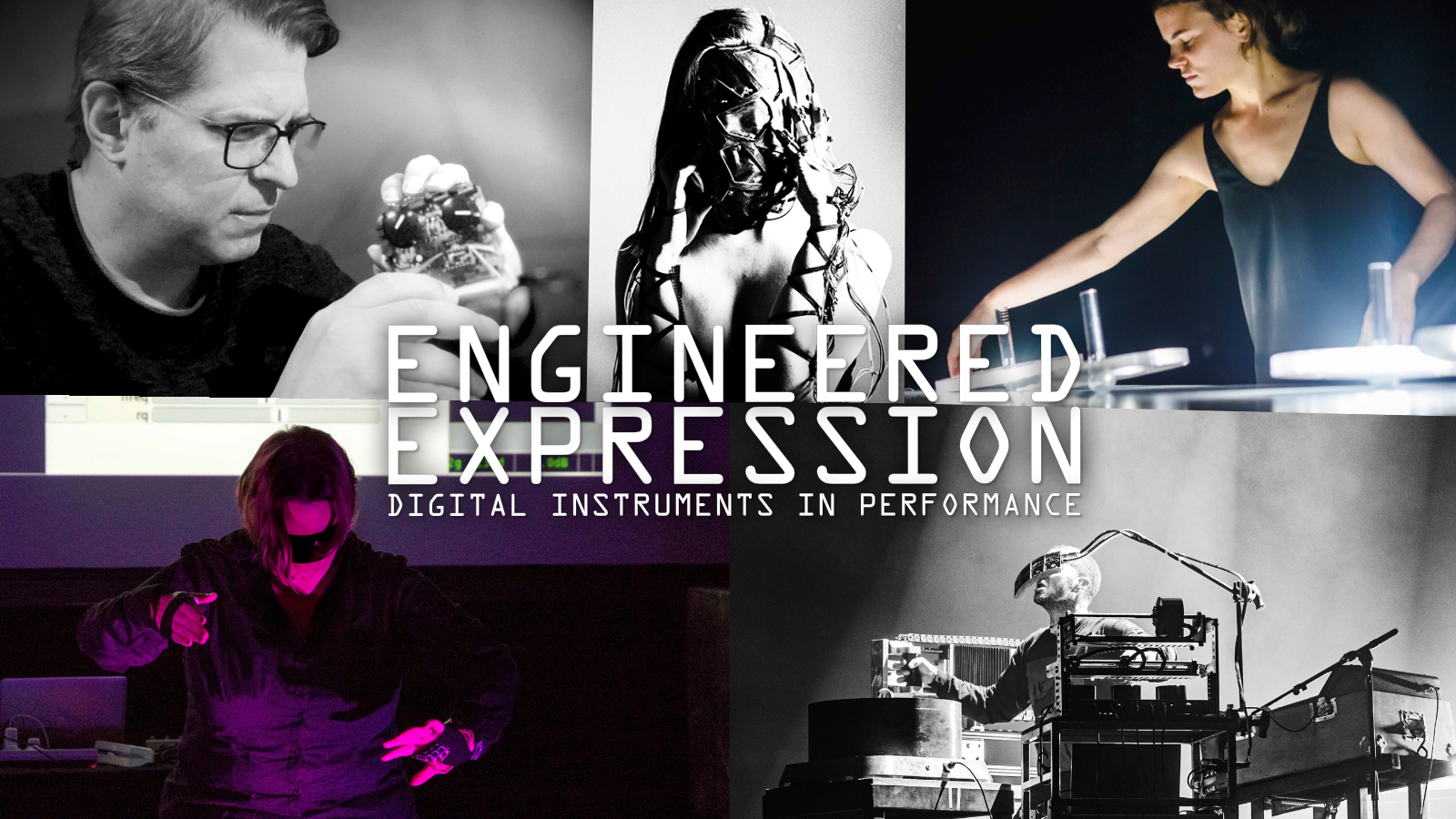 Friday May 7
7:30-9PM EST
Online Concert with MIT
YouTube Link
FREE
Saturday May 8
1-4PM EST
Online Workshop: featuring roundtable discussion, individual presentations, and interviews with the artists, with MIT
YouTube Link
FREE
iii member Marije Baalman will be involved in both the concert and the workshop. Performances by 80KV, Author & Punisher, Ian Hattwick, Marije Baalman, Myriam Bleau.
This event is presented in association with Course 21M.370 Digital Instrument Design and supported by the MIT Center for Art, Science & Technology Cross Disciplinary Class Development Fund. Free and open to the public.
Creating and performing with new digital and electronic instruments has always been an important part of electronic and computer music. This concert and workshop features musicians for whom this is a central part of their practice. Whether it takes the form of a physical interface, motion sensor, or software system, these new instruments are shaped by the artistic and aesthetic goals of the performer. The concert on Friday, May 7 presents performances by five musicians, and a 3-hour workshop on Saturday, May 8, features conversations with the performers and in-depth explorations of their instruments.
Marije Baalman is an artist and researcher/developer working with sound, light, interaction and code. She has a diverse background in applied physics, acoustics, electronic music, computation arts and interactive technologies. She is an expert in sound spatialisation and wireless sensing for live performance, installations and interactive environments.
She works as a freelancer creating her own artistic work, and develops open source hardware and software. She is a member of the artist collective iii (The Hague). Currently she is writing the book "Just a question of Mapping" to be published in the fall 2021 by V2_ (Rotterdam).
Myriam Bleau is a composer, digital artist and performer based in Montreal. Her work investigates performance, both as a codified cultural manifestation, and as an embodied (re)enactment of symbolic systems through human and non-human agencies. Using music and sound as a point of departure, she has created gestural electronic music performances, audiovisual interfaces, installations and interactive devices that articulate sound, light, movement and symbols. Her work has been recognized and presented internationally : Prix Ars Electronica (AT), Sónar (ES) and Sónar Hong Kong, Sonic Arts Award (IT), Elektra (CA), Mutek (MX), ISEA (CA), Transmediale (DE), ACT (KR), LABoral (ES), Scopitone (FR) and Cafe Oto (UK).
Ian Hattwick is an artist, researcher, and technology developer whose work focuses on the creation and use of digital systems for professional artistic performance. He is particularly interested in collaborative performance and the creation of multimodal hardware systems to explore and facilitate social and embodied interaction. He teaches music technology and digital musical instrument at MIT, and is the director of FaMLE, the MIT Laptop Ensemble.
80KV is a noise/industrial musician, performance artist, and mixed media sculptor whose work explores the interface between technology and the human body. Inspired by cyberpunk transhumanism and gothic aesthetics, her performances use custom digital instruments and robotic prostheses to produce disquiet. 80KV loves shiny red LEDs, upsetting noises, and knitting, but definitely not long walks on the beach because who wants salty, sandy circuitry?