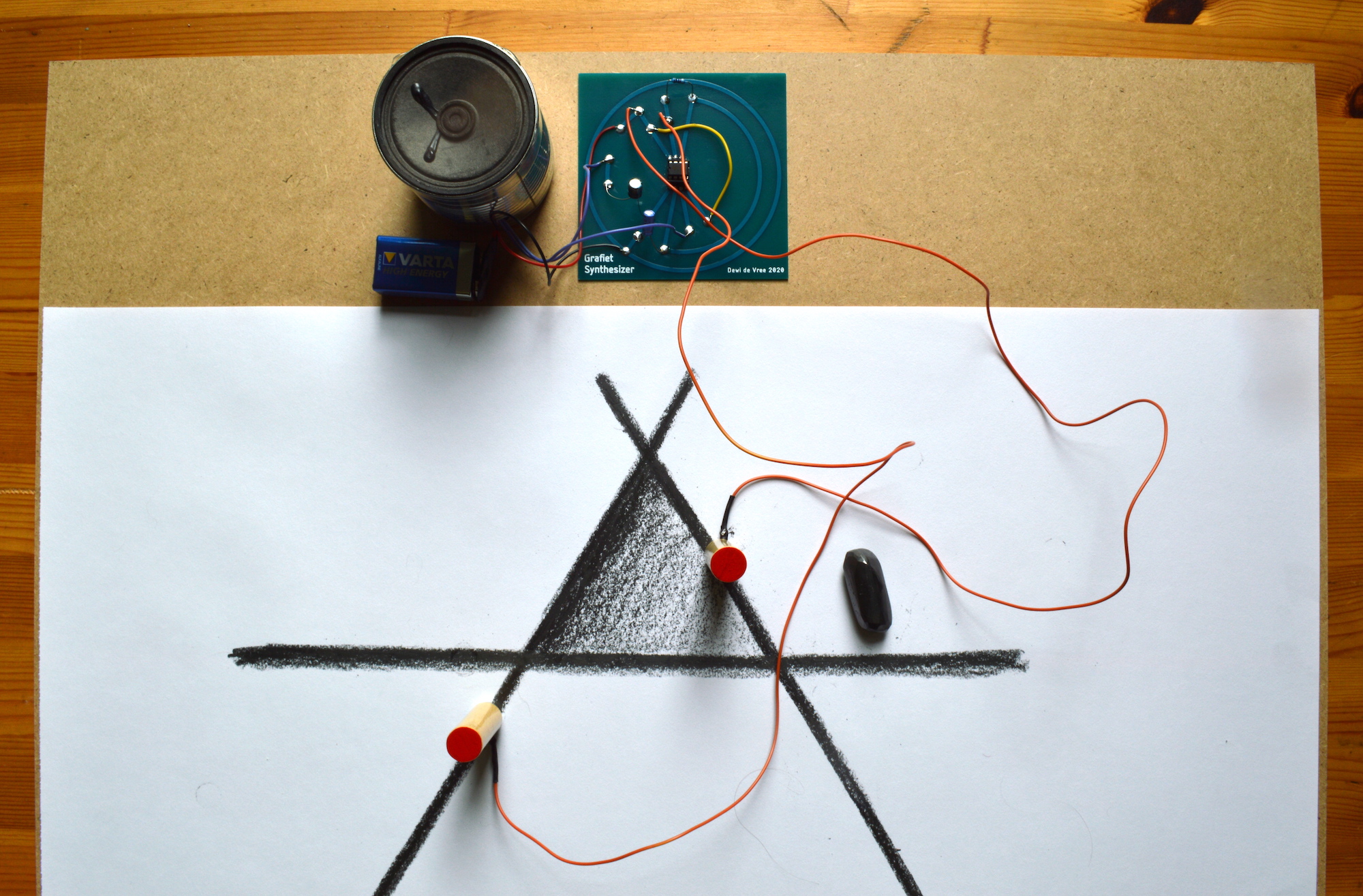 [English below]
Video beschikbaar vanaf 20e Juli 2020
Instructeur: Dewi de Vree
Taal: Nederlands
Materiaal kosten: €20 per bundel
Voorafgaande bestelling hier
Als nodig, soldeer kit huren hier (€5 met storting)
Reserveringen: public@instrumentinventors.org
Wil je geluiden zien of beelden horen? In deze video workshop bouw je samen met kunstenaar Dewi de Vree de 'grafiet synthesizer'.
De grafiet synthesizer verandert een potlood in een elektronisch muziekinstrument waarmee je muziek kan maken door te tekenen of tekeningen kan omzetten in geluid. Na het bouwen van het synthesizer mag je het uiteraard houden. Je wordt ook uitgenodigd om zelf een tekening te maken en deze te bespelen op een erg unieke manier.
Dit workshop is een leuk elektronica project voor kinderen, ouders, en alle beginners. Kinderen tussen de 9 en 14 jaar moeten bij het solderen ouderlijk toezicht hebben. Voor deelname is geen voorkennis van elektronica nodig.
Voor vragen of reserveringen kunt u contact opnemen via email: workshops@instrumentinventors.org.

—
Video available from July 20, 2020
Facilitator: Dewi de Vree
Suitable for ages: 9-14 with parental supervision, 15+
Language: Dutch (with English subtitles)
Fee: €20 per kit
Pre-order the kit here
Option to rent an iii soldering kit here (€5 with deposit)


Do you want to see sounds or hear images?
With the 'graphite synthesizer' you can draw sounds and make drawings audible. In this video tutorial by sound artist Dewi de Vree you will build your own electronic instrument that can translate drawings into music. After building the instrument you are invited to make your own drawing and play it.

This is a fun electronics project suitable for children, parents, and all beginners. Children between 9 and 14 years old must have parental supervision when soldering. No prior knowledge of electronics is required for this project.
For questions or reservations, you may email workshops@instrumentinventors.org