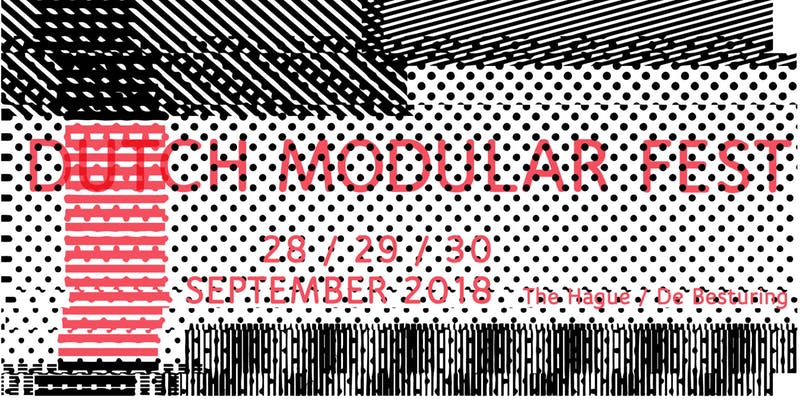 Dutch Modular Fest
September 28-30, 2018
De Besturing, The Hague
Buy tickets here
Artists: (::vtol::), Yuri Landman, Dewi de Vree & Jeroen Uyttendaele, Mariska de Groot, Jonathan Reus, and Matteo Marangoni
The Dutch Modular Fest consists of "3 days of the best Dutch modular artists, international boutique makers, cool workshops, interesting lectures and great installation art which was co-curated by iii. Together we hope to give the audience a full experience not only on modularsynths but also on the diy scene."
During the festival, iii's program will feature: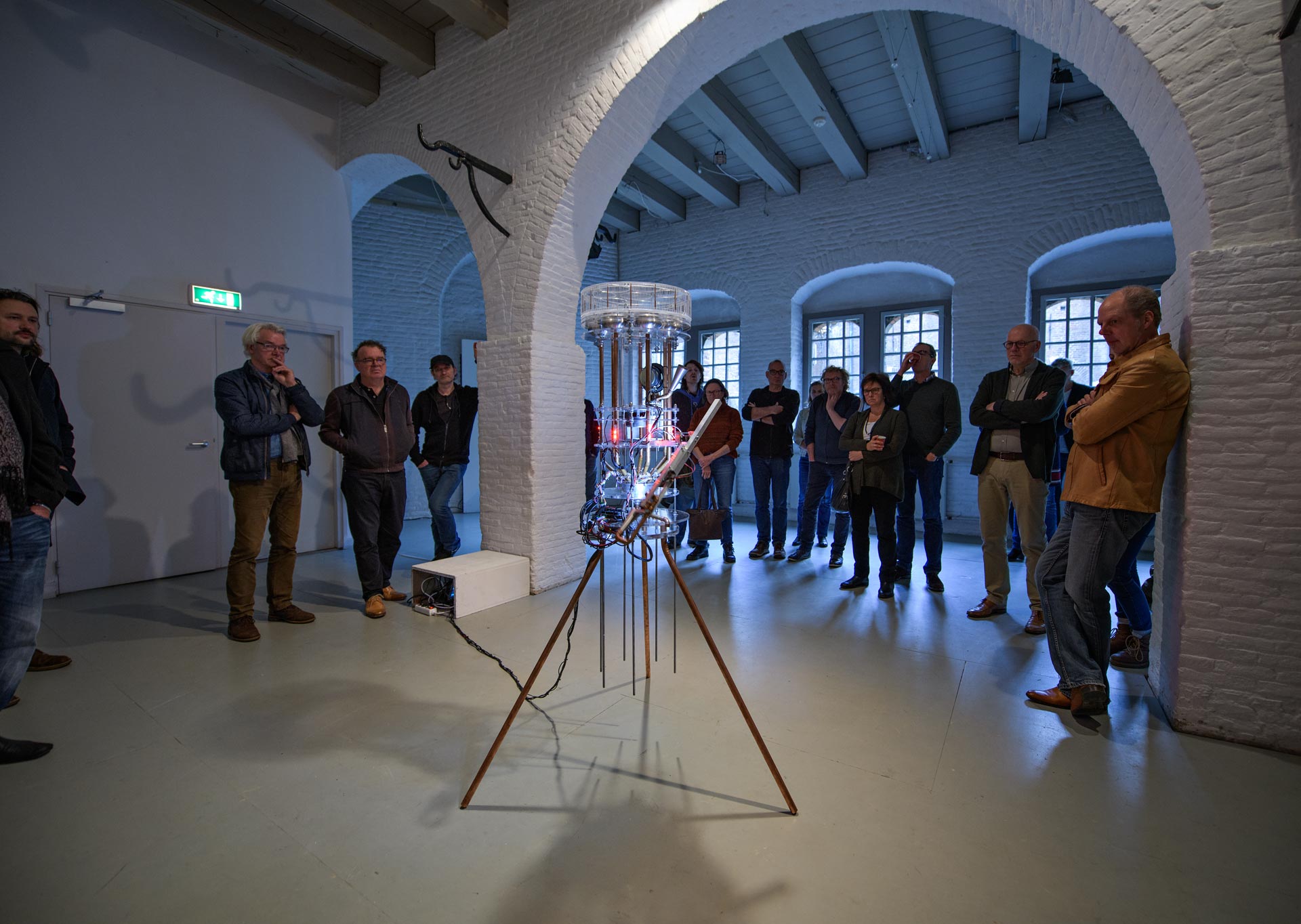 ::vtol:: is the alias of Moscow-based media artist and musician Dmitry Morozov who implements his ideas in technological art: robotics, sound art, science art. He also develops and creates experimental musical instruments and modular synthesizers. He regularly holds workshops and lectures dedicated to technological practices in art.
Driver is a kinetic sound object. The mechanism is a system consisting of two sound circuits and auxiliary mechanical and electronic elements. The first sound circuit is a speaker emitting sound with a square wave shape.
Yuri Landman (1973) is a musician and an inventor of musical instruments. Based on prepared guitar techniques, he built his first instrument in 2001 to solve the inaccuracy of instant preparations. He has built experiments for acts such as Sonic Youth, dEUS, Melt-Banana, Rhys Chatham, Ex-Easter Island Head, Half Japanese, Kaki King.
Helicopters is a series of automated rotating instruments that function as rotating amplified mechanical sequencers. These automated instruments are built using guitar elements and alternative tuning systems. The resulting sounds are processed through guitar pedals, creating rhythmic layers of both acoustic and synthesized sounds.
Dewi de Vree (1983) is a Dutch sound artist. Her work includes sound performances, interfaces and installations based on sensual experience of physical experiments. Her interest in the interaction between the human and the machine led to different translating-machines and sound interfaces.
Jeroen Uyttendaele is interested in sound and it's relation to light, space, time and the viewer.  This translates itself in the development of audiovisual instruments, installations and sound compositions. His works often exploits basic properties of technology such as electricity, metal, conductive materials as the main tools for expression.
Ground is an audiovisual performance in which graphite drawings are used as control interface for various electronic instruments. Graphite is a conductor for electricity. By using it as a variable resistor (instead of a standard knob) the pitch, amplitude and sound color of sound generators can be controlled. In this way Ground offers of the field in which auditive and visual elements are interconnected. Drawing, erasing, touching and slowly or rapidly (re) positioning the instruments on the drawing a direct auditive result. Live electronic music becomes explicitly tangible and open practice.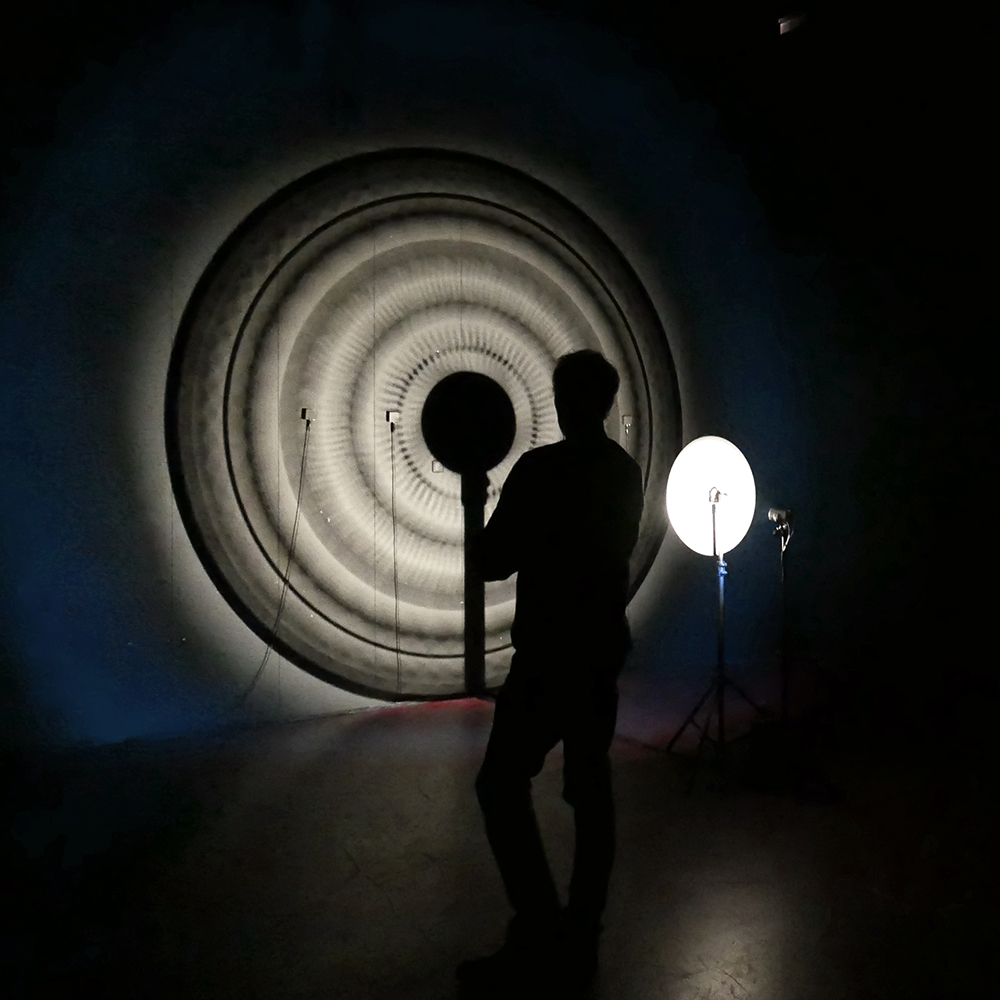 Mariska de Groot makes and performs comprehensive analog light-to-sound instruments and installations which explore this principle in new ways. Her work often has a reference to media inventions from the past, with which she aims to excite a multi-sensorial and phenomenological experiences in light, sound, movement and space.
Hidden Patterns is an optical sound installation that plays with the hypnotic and sacred properties of extremely high shutter speeds and spinning patterns.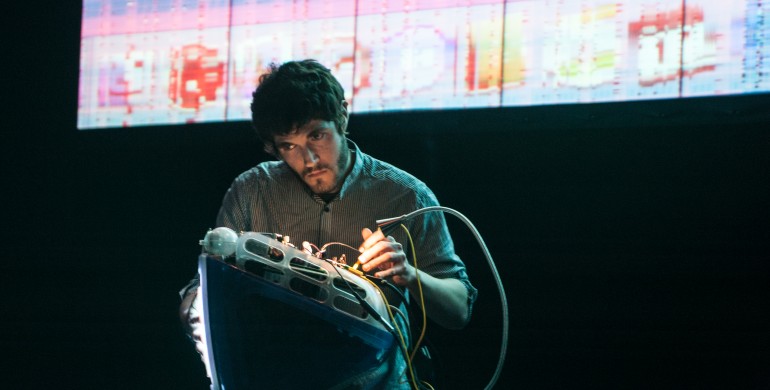 Jonathan Reus makes performable installations and electronic music that blends machine aesthetics with free improvisation. Most of his work involves custom and DIY engineering work drawing on his knowledge of computer science, mathematics, and electronics.
iMac Music is an audiovisual performance using early iMac G3 computers as recycled instruments. The computers run software routines as visual distortions are created on-screen through live-hacking of the circuitry. Using fine-tipped sound amplifying probes, performers are playing the circuits, seeking the acoustic signatures of computation.
Matteo Marangoni's performances and installations employ field recordings, sound archives, computer programming and DIY electronics. Finding unconventional uses for audio technologies and other media, his work probes the relationship between sound, space and the body, approaching the body of the listener through physical experiences that collapse and reshape the space between subject and object.
City Sondols is an ongoing series of public interventions exploring architecture and public space that employ performative practices and mobile audio devices to induce perceptual shifts within the built environment.