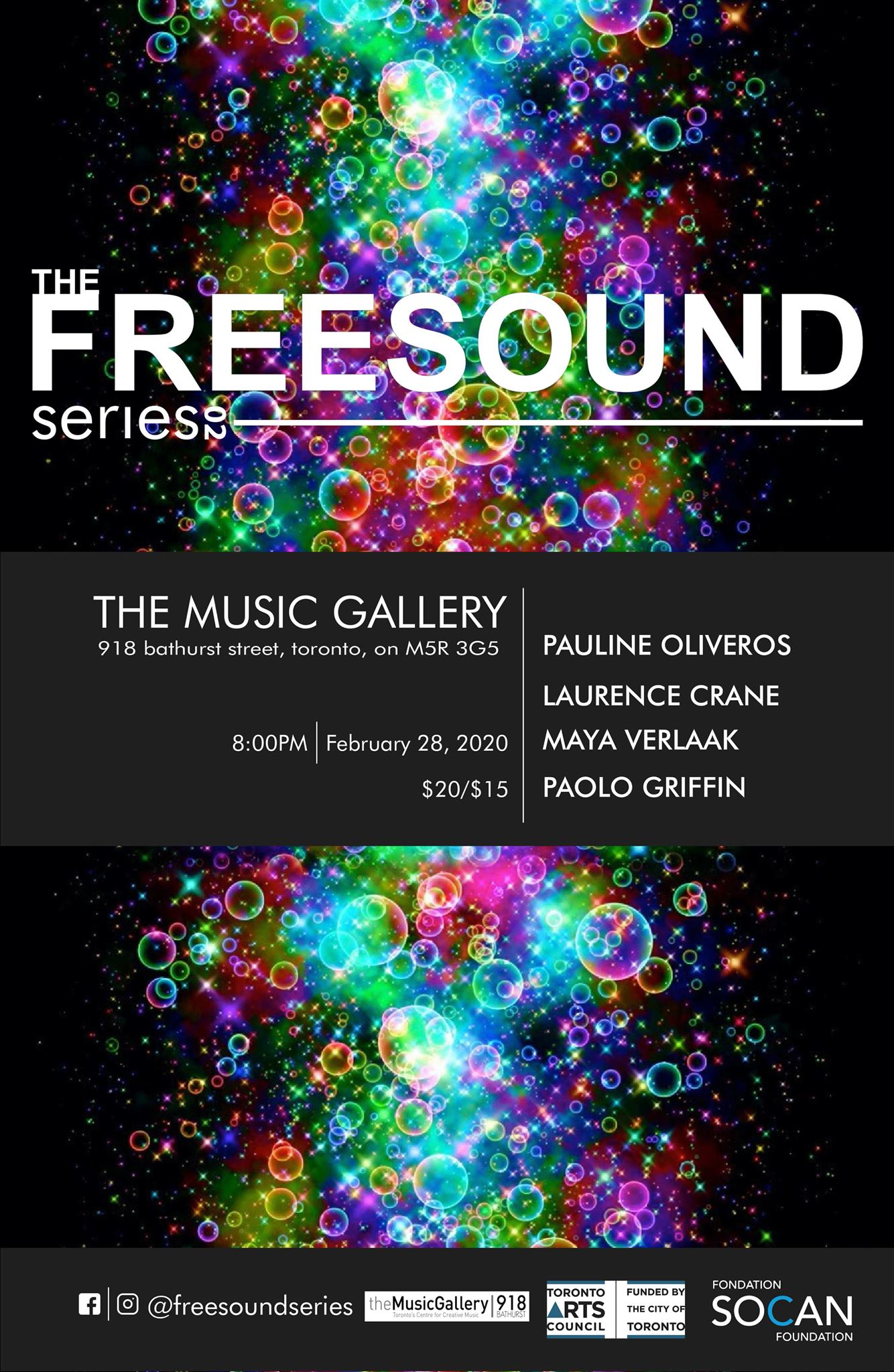 Freesound 02
February 28, 2020
The Music Gallery, 918 Bathurst st. Toronto, CA
20:00
Entrance: $15/20
Maya Verlaak will be presenting a performance of SONG&DANCE: an excessively elaborate effort to explain or justify'
Program:
Laurence Crane (UK) – Movement for 10 Musicians (2003)
Pauline Oliveros (US) – Earth Ears: A Sonic Ritual (1982/85)
— Intermission —
Paolo Griffin (CA) – New Work (2020) – Premiere
Maya Verlaak (BE) – SONG&DANCE: An excessively elaborate effort to explain or justify
————————————
Freesound in partnership with the Music Gallery, presents the first concert of its season, exploring the experimental music of America and Europe. Featuring works by Laurence Crane, Maya Verlaak, Pauline Oliveros, and Freesound's Artistic Director, Paolo Griffin.
Dedicated to showcasing experimental and contemporary music in concerts that range from small chamber works to large-scale events, Freesound consists of a varying group of the best musicians from Toronto's leading classical and contemporary ensembles. Freesound's goal is to encourage and disseminate the creation of new works by Canadian composers and to present existing works by composers from around the world.
Performers:
Flutes – Tristan Durie, clarinets – Tiago Delgado, horn – Rachel Côté, trumpet – Carlene Brown, trombone – Brayden Friesen, piano – Todd Yaniw, violins – Aysel Taghi-Zada & Adrian Irvine, viola – Matt Antal, cello – Evan Lamberton, conductor & artistic director – Paolo Griffin