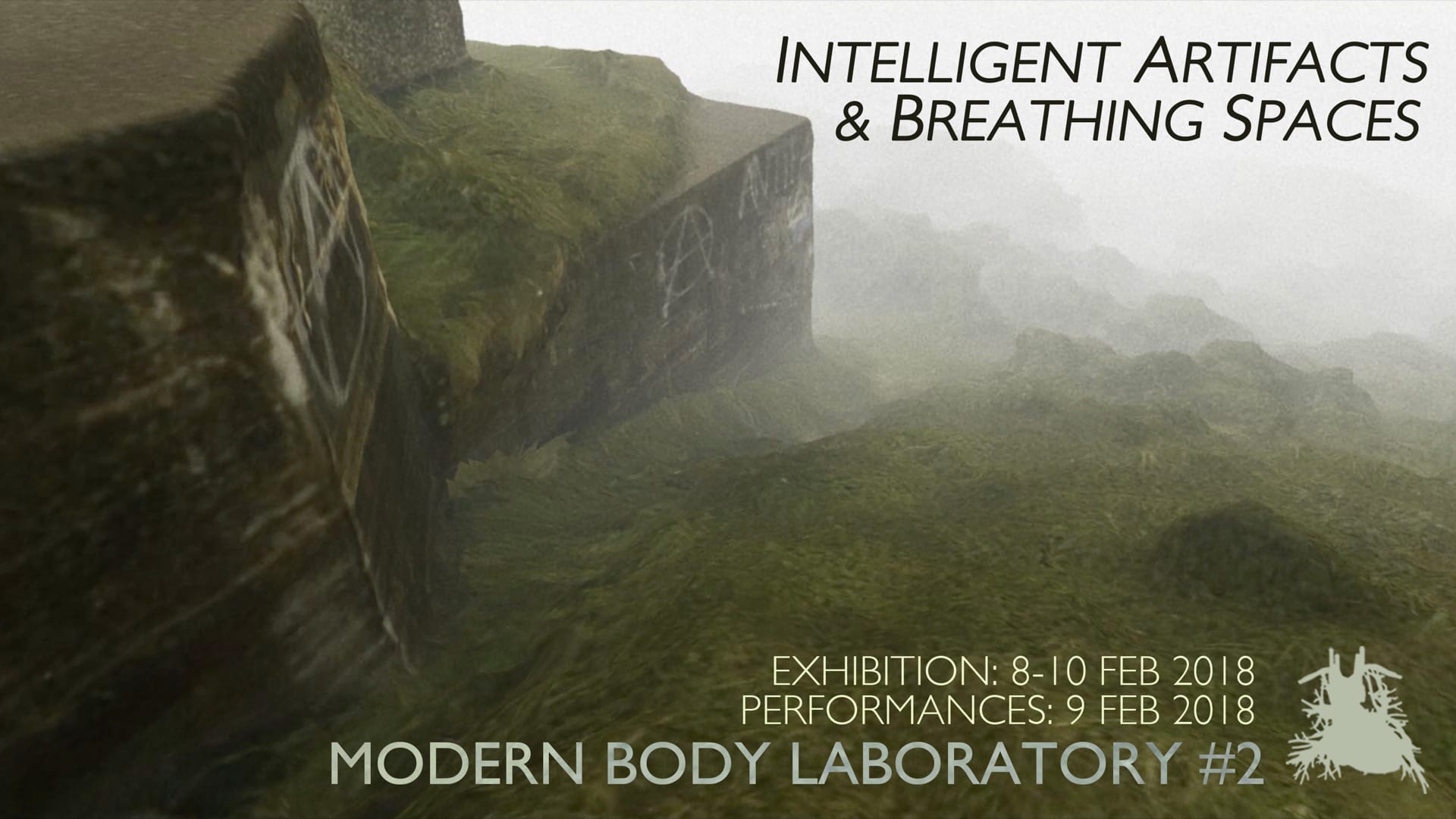 Modern Body Laboratory #2: Intelligent Artifacts & Breathing Spaces
WD4X, iii workspace, Willem Dreespark 312, The Hague
Opening: February 8, 18:00-20:00
Performances: February 9, 20:00-01:00
Finissage: February 10: 18:00-20:00
Exhibition: €4
Performance Event: €5
Combined Ticket: €7
Free for We Are Public members
Presented by Modern Body Festival
Installations by: Cocky Eek (NL), Tivon Rice (US/NL), Stelios Manousakis (GR/NL) & Ping-Hsiang Chen (TW/UK)
The Hot Listening Booth with new works by Pete Harden (UK/NL), Floris van Bergeijk
 (NL)
Performances by: Kenzo Kusuda (JP/NL) Cocky Eek (NL)/ Zois Loumakis (GR/NL), Gerri Jäger (AT/NL), Stephanie Pan (US/NL), Vitaly Medvedev (RU/NL), MURW (NL)
The Modern Body platform examines the nature of our current existence through thematic events that curate experiences – physical, visceral, immersive and intimate. Modern Body Festival focuses specifically in the open field that exists between artforms – new media, dance, music, installations, interactive art, performance, theater, architecture, robotics, bio-art, video art.
Intelligent Artifacts Breathing Spaces is the second Modern Body Laboratory edition. In this
season we explore emerging themes and ideas in preparation for our next biennial festival edition and invite you, our public, to come experience, experiment, and brainstorm with us!
We are very proud to present 4 commissioned and new works. Cocky Eek's Tidal States explores our research theme 'Discovering Post-Relational Aesthetics' with a responsive field of inflatables which breathe with the ebb and flow of air. Tivon Rice's 'The Voices of Nandimul X' explores our research theme 'Artificial Intelligence as a modern body' with an installation combining prints, sound and Virtual Reality interpretations of real spaces narrated by the AI ghost of writer J. G. Ballard. Pete Harden's 'Solace and Shimmer' and MURW/Floris van Bergeijk's 'Kicks for Sauna' are the first sound works made especially for our very own Hot Listening Booth, a 3-person infrared sauna cabin and traveling concert venue. To accompany it, we re-mount the interactive steam sauna 'The Water Within', by Stelios Manousakis, in collaboration with architect Ping-Hsiang Chen.
On February 9, we hope you'll join us for an explosive night of performances with 4 acts,
combining music, dance, light, and architecture. Featuring Cocky Eek / Kenzo Kusuda / Zois
Loumakis, Gerri Jaeger, Stephanie Pan with special guest Vitaly Medvedev, and finishing off the evening with the thumping techno sounds of MURW so you can dance your heart out!
More information here