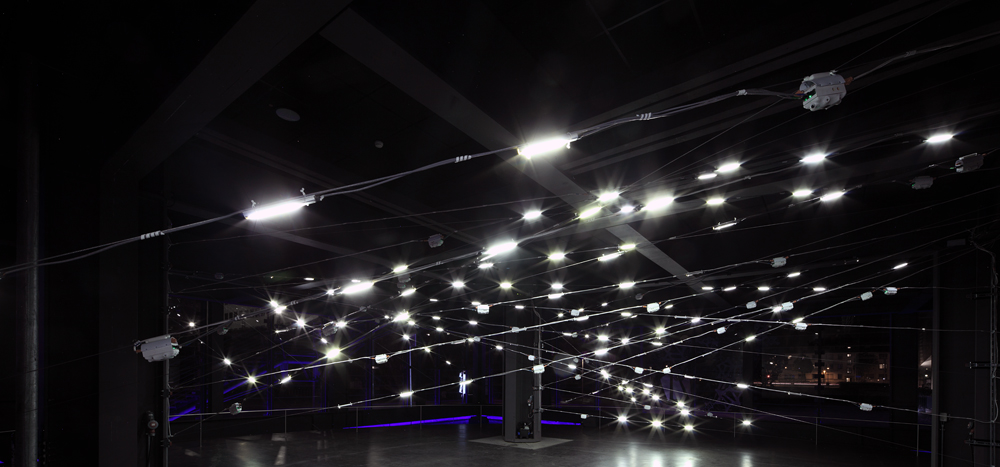 September 22nd – 24th, 2021
TRANSART Festival, Bolzano, Italy
Venue: Kranhalle, NOI TECHPARK, Via Alessandro Volta 13
N-polytope was made in collaboration with Marije Baalman, Chris Salter, Sofian Audry, Adam Basanta, Elio Bidinost and Thomas Spier.
N-Polytope (after Xenakis) is a spectacular light and sound environment combining cutting edge lighting lasers sound sensing and artificial intelligence software technologies inspired by composer Iannis Xenakis's radical 1960s-1970s works named "Polytopes" (from the Greek poly many and topos space). As large scale immersive architectural environments that made the indeterminate and chaotic patterns and behaviour of natural phenomena experiential through the temporal dynamics of light and the spatial dynamics of sound the polytopes still to this day are relatively unknown but were far ahead of their time: a major landmark in the history of the audio-visual arts and performative architectural practice.
TRANSART is one of the most important contemporary art festivals on the national scene (Italy). TRANSART is a multidisciplinary festival, which involves its audience in the exciting exploration of new contemporary frontiers, through a multiplicity of expressive languages and their innovations: from classical to electronic music, from figurative arts to performance, and from cinema to new digital technologies. TRANSART is a popular festival that has been making waves in the Trentino Alto Adige area for more than twenty years. 
Starting in Bolzano, the nerve center of the festival, events take place across the region, from north to south, creating a contemporary, inter-regional, and cross-border platform. 
Since the very first edition, TRANSART events have been held in a broad variety of locations, reinvigorating industrial spaces, former barracks, factories, commercial properties, stations, parking lots, parks, fields, and mountain huts.
Over the years, the festival has also collaborated with many local organisations and with important international festivals, such as MUTEK Montreal, Club To Club, Maerz Musik Berlin, Klangspuren Schwaz, and Elevate Festival.