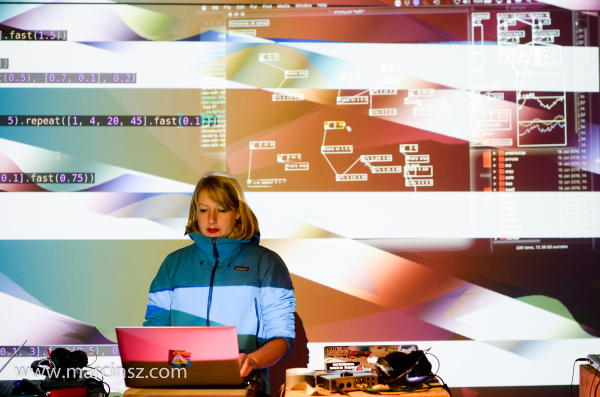 March 28, 2020
Watch the live stream here: https://youtu.be/p9wqyna9bho
18:00-20:45 (GMT+1)
Donations: via IDEAL or via Paypal.
---
Hosted by: Felipe Ignacio Noriega and Anne Veinberg
Performances and interviews with: Shelly Knotts (UK), Kofi Oduro (Canada), Rafaele Andrade (nl_cl), Raphael Sousa Santos (nl_cl), Robert van Heumen (nl_cl)
In light of recent global circumstances making in-person performances increasingly difficult for performing artists, we will present the first NL_CL / iii collaboration as a live streamed (un)concert.
The (un)concert will be a fully live-streamed event combining music-visual performances by invited artists along with radio commentary and interviews in between sets. The livestream will be hosted by Felipe Ignacio Noriega and Anne Veinberg.
Live stream link: https://youtu.be/p9wqyna9bho; watch this space and follow @NL_CodingLive on twitter for the latest updates!
NL_CL (Netherlands Coding Live) is a self-organized assembly of live coding artists based in The Netherlands. NL_CL organizes monthly gatherings, discussions, concerts and other cultural activities to help bring together and give a platform to this community. In 2020 NL_CL is partnering with iii to present a concert and workshop series presenting three hypotheses on the performative practice of live coding each by a different guest curator from the NL_CL community. The goal of this series is to explore the variety and potentials in the current state of live coding practice. The series is organized by Jonathan Reus.
On the (un)concert theme: THE FUTURE OF MUSIC
We might have heard about live coding already. We might have heard about algoraves too. We might have read articles, tweets and retweets about this new form of algorithmic music that some claim to be the future of electronic music. This concert will explore this idea, "the future of music", by looking for the pioneers and artists who are pushing the boundaries of our musical understanding of live coding.
Breaking free from techno and dance music forms, the artists gathered for this live coding evening will show us how personal, innovative, and engaging their take on music is. They will challenge our idea of genres and styles, leading our ears and eyes through their very individual algorithmic and sonic worlds. This (un)concert is a statement on live coding as a fresh and evolving perfromative genre, hard to pigeonhole, that expands beyond dance music into the realms of poetry, spoken word, composition, instrument making, functional programming and interface design.
Noise, melodies, harmony, rhythm, and above all authentic musical expression, will come together on March 28th – welcoming international artists from the UK and Canada and promoting local talent within the Dutch live coding community.
About the Hosts

Felipe Ignacio Noriega is a composer, programmer and live-coding artist born in Mexico City and is co-creator of the CodeKlavier together with Anne Veinberg. He collaborates in various settings where a common subject is the incorporation of coding as a performative and aesthetic principle. In March 2017 he was awarded a start-phase and development-phase grant from the Creative Industries Fund NL to develop the CodeKlavier.
Pianist Anne Veinberg is an active soloist, improvisor and chamber and larger ensemble player. Anne was keyboard finalist in the ABC Young Performers Award 2008, winner of the Grachten Festival Conservatory Concours 2009, semi-finalist in the 2011 Gaudeamus Interpreters Prize, finalist in the Linkprijs and prizewinner at the Stockhausen Courses Festival in 2013. She has been supported by the Australian Council for the Arts, the J Vonks Fond, Australian Music Foundation, the Donovan Johnson Scholarship, FW Homeward Memorial Scholarship. She is particularly interested in exploring works for piano and live electronics/live coding and the more theatrical contemporary piano repertoire.
This event is presented by iii with financial support from The Municipality of The Hague, Stroom Den Haag, The Creative Industries Fund NL and The Performing Arts Fund NL