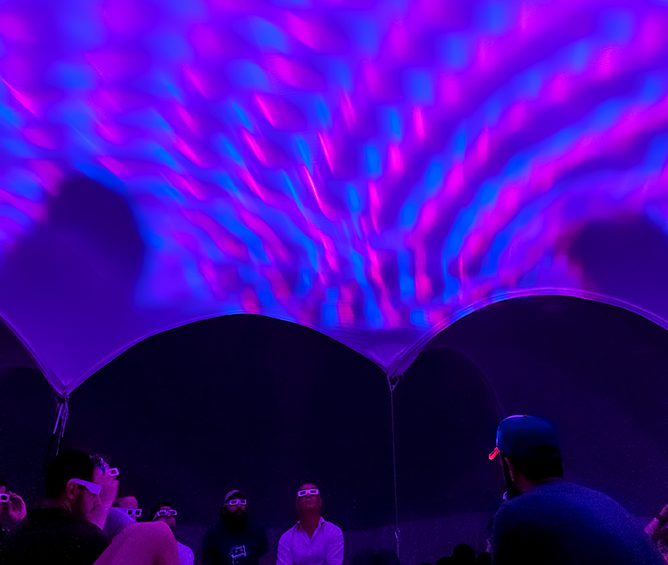 10th September 2021
Performance at Phonos, Pompeu Fabra University, Barcelona (ES)
Public event for the documentation of the work, to be included in the iii Blueprint series publication curated by Lars Kynde.
~.Submerged.~ by Yolanda Uriz invites us to widen our sensory limits, reaching as close as ever before to the long imagined fantasy of seeing sound through the eyes. The audience is submerged in a liquid universe of underwater sound. A stereoscopic cymatic projection observed through anaglyphic glasses creates the visual impression of three-dimensional sound waves floating in space above the observer. Tactile transducers convey the vibrations, which are simultaneously seen and heard, through the body of the listener, creating an experience in which the senses of vision, hearing and touch oscillate in unison.
About the organization
Phonos is an art centre devoted to the creation, presentation and dissemination of sound art and music with new technologies. We carry out our activity through regular concerts series, lectures about theory and criticism, artist-in-residency programmes, workshops on sound awareness, as well as through research projects in close collaboration with the Music Technology Group of Pompeu Fabra University, institution to which Phonos has been associated since 1994. As a pioneering centre in the field of electroacoustic music in Spain, with 45 years of history, our fundamental mission continues to be that of establishing bridges between sound creation, research in technology, and the cultural and artistic worlds, promoting and informing the latest developments in technology from creative and cultural perspectives.