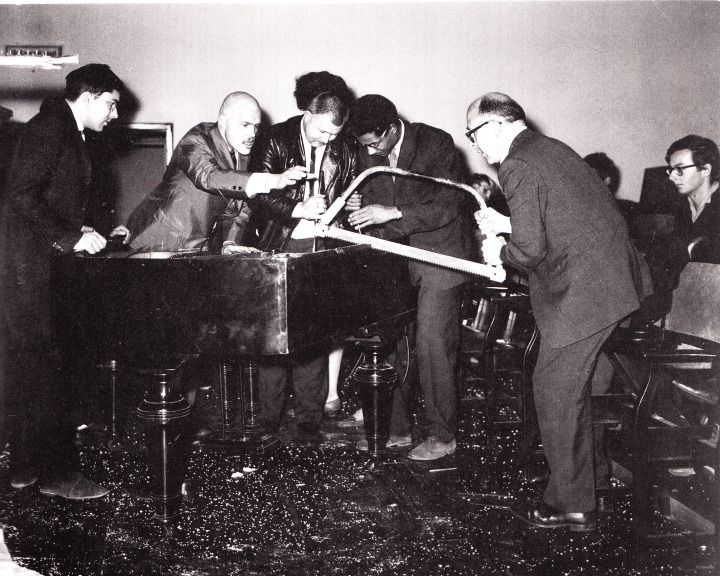 The Reading Room #21 – In the Thick of Things – untangling the spatial processes of improvisation (part 2)
November 12, 15:00 – 17:30
Guest Readers: Lila Athanasiadou, Marcel Cobussen, Andrej Radman
Texts by: Didier Debaise, Raymond Ruyer
Location: Stroom Den Haag
About The Reading Room
The Reading Room is an event series dedicated to creating encounters between contemporary theory and the wider community of practicing artists. The valuable insights and inspirations found within much theoretical work in the sciences and humanities is often hidden behind a firewall of dense and difficult reading. It is the intention of the Reading Room to break down this firewall and as a community unpack these texts together through discussion.
At its core, the Reading Room series revolves around the reading of texts provided by invited guests – contemporary artists, cultural theorists, philosophers and researchers – who join us in an open discussion while providing insight, context and perspective on the topics at hand.
In the Thick of Things – untangling the spatial processes of improvisation
While there has been much written and said about the value of improvisation in discourses on innovation and creativity, there seems to be no prescriptive formula for improvisation itself. What is improvisation, then? Where do we look to identify processes of improvisation? And how might we understand improvisation as a general practice, or constellation of practices?
This cluster of the Reading Room looks to make improvisation slightly more knowable. While we acknowledge the many traditions and theories of improvisation within music genres, this cluster will focus on ways in which improvisation is relational, existing within a physical space occupied by players and potentials to act. Through this perspective, we will work to deconstruct the persistent idea of the improviser as a free-wheeling subject, or navigator, and instead emphasize a model of subjectivity that is constantly shifting in the exchange of energies between human and technological players.
In his writing on musical improvisation, Marcel Cobussen suggests that "improvisation takes place in all [acts of] musicking", contending that improvisation as a performative phenomenon transcends genre. But does it also elude generalized analysis? Can concepts from complex systems theory, relational and process-based philosophies help us to make this final step?
Note from the curators
This is the final Reading Room cluster for 2017, and the first cluster to include a member of our community (Lila Athanasiadou) directly as a guest reader. Looking back on this year, we want to extend a special thanks to our many collaborators, and the amazingly diverse community that has grown around this series, for making 2017 such a success. And we look forward to organizing another exciting program in 2018!
Please reserve a spot by sending an email to platformtm@gmail.com. We will also provide you with a copy of the texts.
Invited Guests:
Lila Athanasiadou is a freelance writer and exhibition designer collaborating with art venues in Rotterdam and Athens. She has organized and moderated seminars and lectures in TU Deft and Witte de With Center for Contemporary Art and has presented her work in academic conferences in KTH, Stockholm, Goethe University in Frankfurt and the Estonian Academy of Arts in Tallin. She has worked as an architectural consultant in Italy and Belgium and a research assistant in MVRDV think tank, the Why Factory (T?F)  She has recently graduated from the Master of Architecture at TU Delft and is currently coordinating the Corporeal Discourse program at the Master of Interior Architecture at ArtEZ.
Andrej Radman has been teaching theory courses and design studios at TU Delft Faculty of Architecture and The Built Environment since 2004. In 2008 he was appointed Assistant Professor of Architecture and joined the research and teaching staff of the Delft School of Design (DSD). As a graduate of the Zagreb School of Architecture in Croatia, Radman received a Master's Degree with Honours and a Doctoral Degree from Delft University of Technology. His current research focuses on New Materialism in general and Ecologies of Architecture in particular. Radman is a member of the National Committee on Deleuze Scholarship, and production editor and member of the editorial board of the peer-reviewed architecture theory journal Footprint. He is also a licensed architect with a portfolio of built and competition-winning projects. In 2002 Radman won the Croatian Association of Architects annual award for housing architecture in Croatia.
www.facebook.com/ArchitectureTheoryTUDelft
http://footprint.tudelft.nl/
Marcel Cobussen is Professor of Auditory Culture and Music Philosophy at Leiden University (NL) and the Orpheus Institute in Ghent (BE). He studied jazz piano at the Conservatory of Rotterdam and Art and Cultural Studies at Erasmus University, Rotterdam. Cobussen is author of several books, among them The Field of Musical Improvisation (LUP 2017), Music and Ethics (Ashgate 2012/Routledge 2017), and co-editor of The Routledge Companion to Sounding Art (Routledge 2016). He is editor-in-chief of the open access online Journal of Sonic Studies.
The Reading Room is curated by Flora Reznik, Sissel Marie Tonn and Jonathan Reus, and is produced by iii in collaboration with Stroom, Den Haag and with the financial support of Stroom Den Haag and the Creative Industries Fund NL.