July 23, 2017
Hal25 Pettemerstraat 15, Alkmaar
19:00-20:00
Magnetoceptia's latest performance 'Tip the Scales in a Gambler's Favor' will be presented on the 23rd July 2017 in Hal25 Alkmaar, The Netherlands. The performance has been developed within the context of a Creatorium Residency, with the support of Hal25.
This time a platform is created on which the Cheese carriers´guild – 'Kaasdragers' of Alkmaar – meet the local radio sending-amateurs.
The most simple and versatile methods of telecommunication – semaphore signs and morse code – will serve as optical and audible commands for the Cheese carriers´guild, shaping the composition of the performance.
Through the ceaseless clink of their wooden shoes, Dewi de Vree & Patrizia Ruthensteiner alias VICTOR & ROMEO, will transmit codes, evoking a cascade of translations to chase around the cheese carriers. By stepping out of accord, eventually a new language will be created, one that is based on a more physical vocabulary, as a result from walking off the path of the NATO phonetic alphabet.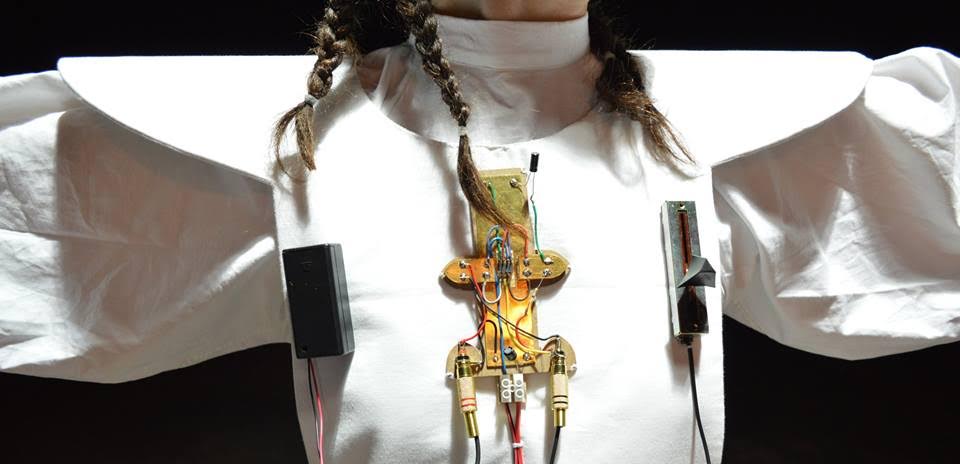 The material and immaterial, the local and the worldwide, the received and the self-generated sounds presented during the performance, will be sent out by the Grand Master of Shortwave controlling an antenna receiving station, to be eventually picked up in distant spheres by a potential observer of the earthly activities.
In the lodge of Magnetoceptia's guild, each member has their own call sign and colour-code to mark their respective roles, placing them in the hierarchy of the performance.
White is the colour of the carriers´guild and the mason's apron (schort), whose enlarged pattern will serve as the stage, a chalk-drawn playground.
The choreography of the piece will be determined by the rules of a self-invented game, by which chains of commands,
translations and cascades of re-contextualized actions are evoked.
Enclosed male circles will now be stimulated to a dialogue, controlled and directed by VICTOR & ROMEO.
Stereotypes will be stretched out and compressed again, sonified and transmitted to another star.
Vivat !
All rights reserved by Dewi de Vree & Patrizia Ruthensteiner.
Performers:
De Uitdeuker (The Flattener) – Peter de Jongh
De Uitbener (The Boner) – Derk Woldendorp
The Lick – Dick Bond
Zetter – Gerard
Ignooier – Axel
Morse King / Queen
The Grandmaster Of Shortwave
VICTOR – Dewi de Vree
ROMEO – Patrizia Ruthensteiner