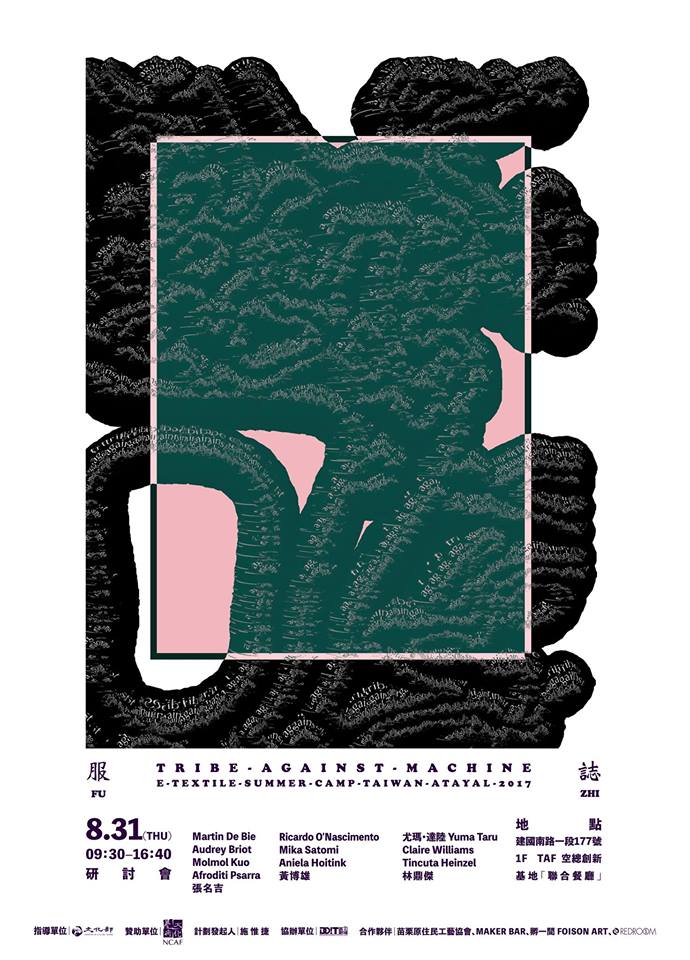 Conversation of Tribe Against Machine: A Nomadic Art-Society Project with Ethnic Culture & e-Textile community
August 31, 2017
Taiwan Air Force 空總創新基地 聯合餐廳, Taipei
As part of the e-Textile Summer Camp Taiwan 2017, Jonathan Reus will be taking part in a symposium.
This symposium is a post e-Textile Summer Camp Taiwan 2017 event, aiming to deliver and share what happened and what's been formed during a 10-day cultural exchange experience to a broader audience. E-Textile artists, new media artists, community movement workers, programmers as well as anthropologists are gathering together to share their ideas and outlook in related to this first-ever event from "Tribe Against Machine" project, also to stimulate dialogues and visionary thoughts altogether.
The core proposition of Tribe Against Machine is: how future and traditions can help to repair each other, and also aims to create a networking environment among these fading culture groups, as an alternative to furthering the use of future technologies that used to only serve capitalism. We therefore invite creators from different disciplines, artists, professionals and all the individuals who are interested in this topic to join this symposium, together we can imagine and describe various possibilities from the rendezvous of distinct, self-sufficient cultural groups and the new approaches to the use of technologies.
The e-Textile Summer Camp is an European artist platform created to share knowledge of e-textile. Several artists were invited to the Summer Camp to collaborate with Atayal culture.
The Artists/campers:
Afroditi Psarra (Greece)
Audrey Briot (France)
Aniela Hoitink (Netherlands)
Claire Williams (France)
Luis Rodil-Fernández (Spain)
Jimi Mased (Australia)
Johnathan Reus (Netherlands)
Martin De Bie (France)
Mika Satomi (Japan)
Nukeme (Japan)
MolMol Kuo (Taiwan)
Shih Wei Chieh (Taiwan)
Tincuta Heinzel (Romania)
Ricardo O'Nascimento (Netherlands)
Yuma Taru and Lihang Workshop (Taiwan)