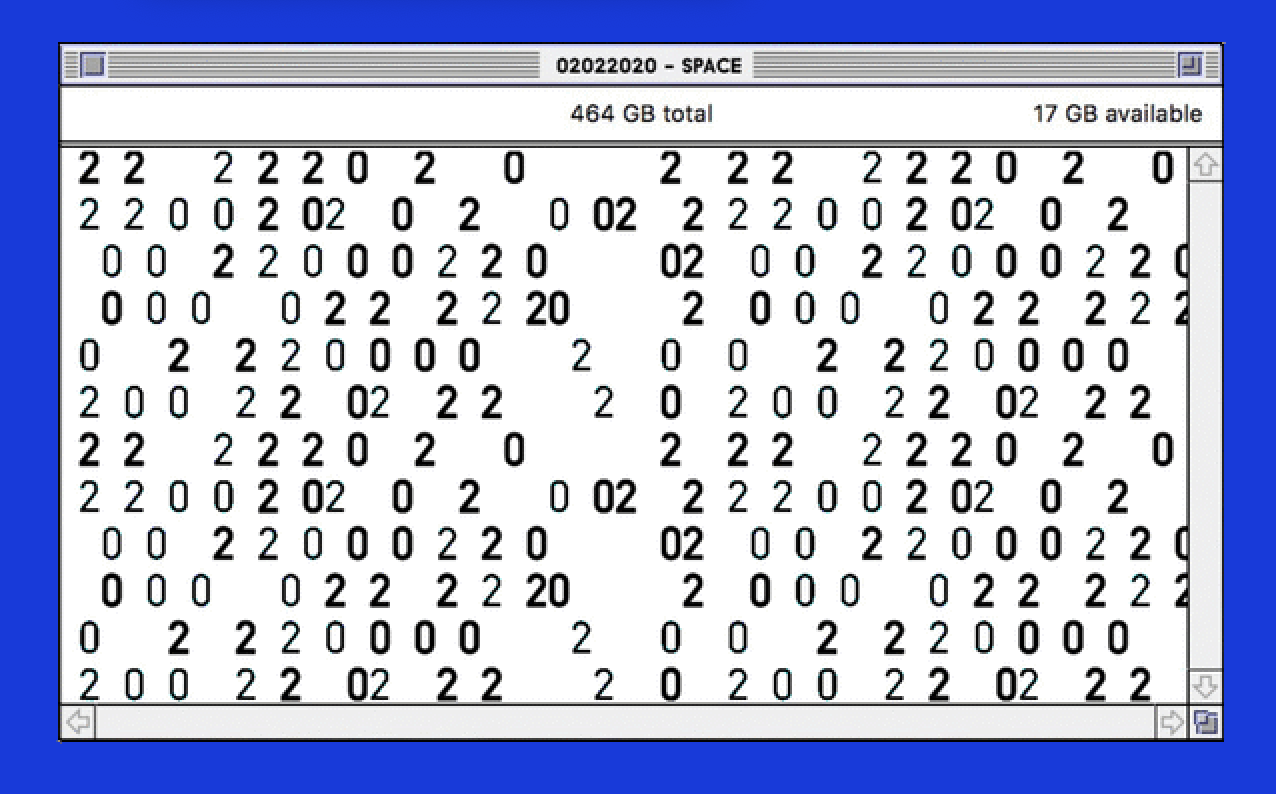 February 2, 2020
02022020.space
Yolanda Uriz and Wen Chin Fu are giving performances online as part of the project 02022020.SPACE.
Wen Chin will be giving a "Sugar Talk", making dinner for several audience members, and Yolanda will be performing in Barcelona at La Place artspace.
02022020.SPACE is a collective art project in response to our next palindrome date, 02-02-2020. Artists that work with diverse artforms are invited to create works exploring the hidden meanings of the date in relation to our society, culture and our planet, not limited to the impact of the once-in-a-lifetime event, but also the attraction of highly repetitive and reversible numeric effects, and the global influence of timezones.
The most brilliant cultural highlights of recent times have involved people broadcasting ideas in innovative ways, with web-based technology becoming one of the major elements in our daily life. 02022020, also a 8-digit computer-friendly code, is ideally situated in the Internet culture, ushering in the new vision of information exchange in the nearest future. On 02-02-2020, a collective of artists will create a 26-hour programme of artworks and performances that will be streamed on the Internet for viewers in all timezones. The Live performances with local audience are presented in 10+ cities around the world. The audience will also see the streaming of the performances and artworks in other locations.
// How does it work? //
The whole project embraces the concept of time-zones. Each time-zone enters the day sequentially. Currently 38 time-zones are being used on our planet including all offsets of 30/45/60 minutes. Wherever you will be on the 2nd of February, there will be one art work or performance released at 20:20 in the evening in every time-zones. The works can take many forms including, live performances, installations, recorded works or artworks created in a web-based form. Audience can follow all the time-zone events on our website 02022020.space from the first one UTC+14 to the last UTC-12, experiencing total 26 hours of art events that unveil the maximum potential of the day.
Apart from sitting at home and watching the whole event on the Internet, the audience can also go to the venue where the Live performances are presented and watch the streaming programme with other audiences.