Dewi de Vree & Jeroen Uyttendaele
Maia Francisco
Margriet Kicks-Ass
Willem Marijs
Thursday January 29th 2015
20:30 Studio Loos – doors open 20:00
De Constant Rebecqueplein 20b, 2515RA Den Haag, The Netherlands
This edition of Wonderwerp is curated by Anne Wellmer
Program information:
Ground, Dewi de Vree & Jeroen Uyttendaele
Ground is an audiovisual performance in which graphite drawings are used as control interface for several electronic instruments. Graphite is a conductor for electricity. By using it as a variable resistor (instead of a standard knob) the pitch, amplitude and sound color of sound generators can be controlled. In this way Ground offers a field of possibilities in which auditive and visual elements are interconnected. Drawing, erasing, touching and slowly or rapidly (re)positioning the instruments on the drawing have a directly audible result. Live electronic music becomes an explicitly tangible and open practice.
Jeroen Uyttendaele is interested in sound and it's relation to light, space, time and the viewer.  This translates itself in the development of audiovisual instruments, installations and sound compositions. His works often exploit basic properties of technology such as electricity, metal, conductive materials as the main tools for expression.  Jeroen studied Radio (Brussels), Art|Science (The Hague) and followed a postgraduate course at the HISK (Higher institute of fine arts) in Ghent.  He currently lives and works in Brussels and Ghent.
Dewi de Vree is a Dutch sound artist. Her work includes sound performances, interfaces and installations based on sensual experience of physical experiments. Her interest in the interaction between the human and the machine led to different translating-machines and sound interfaces. She studied at the Audiovisual department at the Rietveld Academy in Amsterdam and at the interfaculty Art|Science at the KABK in The Hague, The Netherlands.

Improvisation for piano & sine wave oscillator, Maia Francisco
I was educated as a classical pianist, as which I had to follow a rigid regime regarding the piano literature I had to practice, the harmonic and melodic framework I exercised, and the physical posture I had to train, whereby I had to focus mainly on the position of my hands in relation to the piano keys. The piano repertoire I became most familiar with includes Bach, Beethoven, Mozart, Liszt, Chopin, Debussy, Webern and Schoenberg. Improvisation was not part of my training, at all. But the urge to create something unique and new in music brought me to explore improvisation. While improvisation typically is not part of a classical instrumental training, it can be a powerful tool to free oneself from any musical dogmas. As an improviser I started a process of deconstructing the deeply embedded classical repertoire within myself, and came to add electronics in a very personal way.
Maia Francisco is a pianist, graphic designer and sound artist. She studied art and design at Barcelona's Escola Massana Centre d'Art I Disseny and piano at the city's Conservatory of Music. Maia is currently enrolled as a student of Sonology at the Royal Conservatoire of The Hague, where she researches the use of pure sine waves in music. She is investigating improvisational environments that will allow her to interact with the acoustic piano and sine wave oscillators.

photo by Olga Tokarczyk

Sound-case,  Margriet Kicks-Ass
Margriet Kicks-Ass creates an authentic and direct sound world of raw extremes and no compromises. Already as a child she asked herself: Why are the dishes not arranged alphabetically? She refuses to be intimidated by calls for efficiency and functionality and choses a Dadaistic approach, instead, juggling the context and meaning of daily life objects with an analytical attitude, which reflects her fascination with natural phenomena and technology. This forms the point of departure for her playful kinetic sound sculptures, which she presents as autonomous works and in theatrical live performances. Her new project, the SOUND CASE, consists of an empty record case that she filled with self soldered electronics to produce a wide range of sounds, from sensor driven analog squeaks and squeals to the slick sounds of a synthesizer.
Margriet Kicks-Ass is an interdisciplinary artist based in IJmuiden and Berlin. Recently she initiated a successful series of museum workshops called "Asking Stupid Questions" and she is also known for organizing the annual sound art and performance festival "Rammelfest". Margriet studied Sound & Image [now Art|Science] at the Royal Conservatoire and Royal Academy of Fine Arts of The Hague (NL) and Audio-Visual Arts in Tilburg. She ignores trends in art and follows her own path, instead, while drawing inspiration from artists such as Theo Jansen, Gerrit van Bakel and Karlheinz Stockhausen.
ELOMA, Willem Marijs
The Electro Magnetic Field Orchestra ELOMA by Willem Marijs creates and plays with the (electro static and) electro magnetic fields of fluorescent tubes and other radio and sound waves that are travelling through the air.
Willem Marijs started his career in the mid sixties of the 20th century. He was part of the so called kinetic wave which included many artists from The Hague, such as Livinus van de Bundt, Ray Staakman and Johan van Zutphen to name only a few. The kinetic wave included optical art and light art. Willem Marijs' body of work includes many monumental light and sound installations. Two years ago he presented an incomplete Electro magnetic orchestra from the 1970s at Studio Loos. This time Willem will perform with his Electro Magnetic Field Orchestra ELOMA from 2013.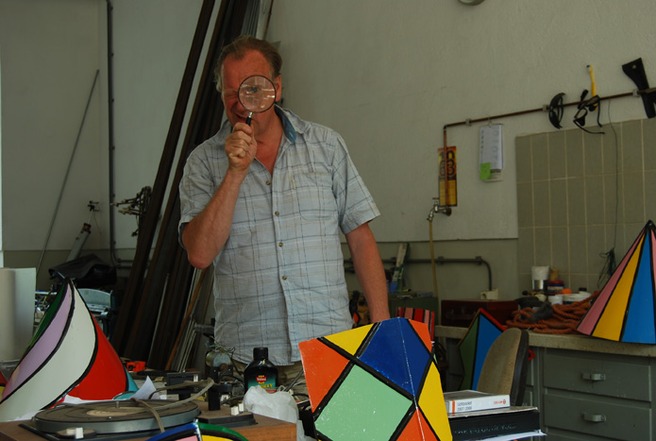 About the Wonderwerp series
Wonderwerp is a monthly performance series presenting radical artistic practices that engage with sound, image, space and the body:  imagining new tools to articulate everyday phenomena, extending the body, remapping sense perceptions, hacking and reinventing existing media and codes, creating time and space for events which find their preferred storage medium in the memory of participants.

About Studio Loos
Studio LOOS is the hot spot for new music in The Hague (NL), and is located in the multidisciplinary arts building DCR. It is a workspace, laboratory and a public presentation space for artistic research, experimentation, development, innovation and production of interdisciplinary, experimental, electro acoustic music, sound art, improvisation, composition ranging from monomedia via bimedia to polymedia and hypermedia. Studio LOOS is part of the LOOS Foundation, which brings together internationally renowned and yet unknown artists in the field of interdisciplinary new music, who use the space to conduct their research during residencies and rehearsals and present the results of their experiments and their newest work to the public. The LOOS Foundation is supported by the Municipality of The Hague.