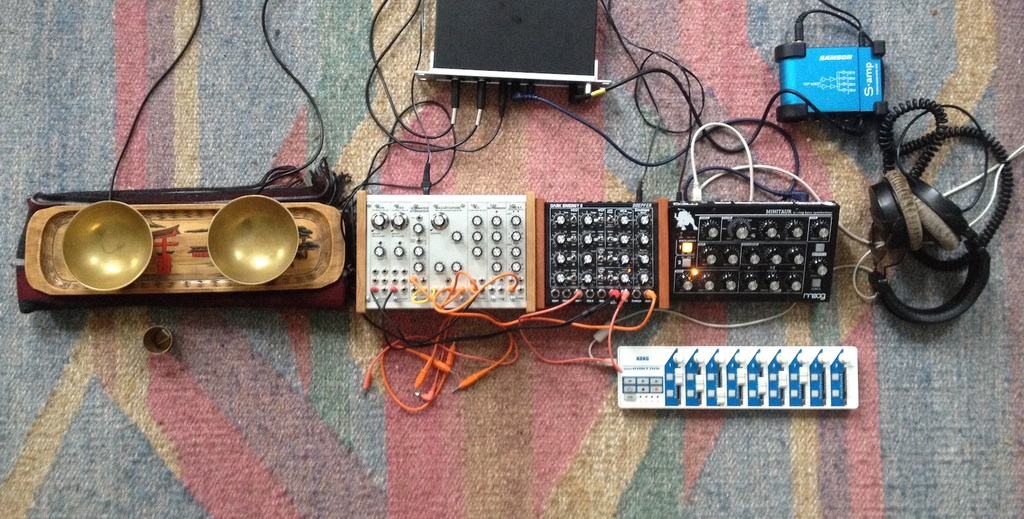 Studio Loos, Wednesday February 25th 2015
Ernst van der Loo
Robin Koek + Mark Nieuwenhuis
Ángel Faraldo
Doors open at 20:00, starts at 20:30
De Constant Rebequeplein 20B, Den Haag
Program info
Ernst van der Loo – Two solo works
Brutalism (since 2014)
Brutalism is a conceptual sound piece series, researching the borders of electro-acoustic music, psycho acoustic phenomena and noise music. Originating from recordings on an analogue 8 track tape found whilst moving abroad.
These recordings were mixed down to stereo, 21 times in succession. Since all were running at slightly different tape speeds, a huge wall of sound emerges which contains all kind of varieties of psycho-acoustic phenomena. Brutalism is an ongoing series. The version heard here is one of the possible outcomes.
Rounds (2013-2015)
Is a more or less classic style analogue tape piece based on the family tree concept. Since this piece is still in the process of creation, the presentation form is still unknown at this time.
Thanks go out to NOTAM in Oslo for hosting me in the summer of 2014 when my home studio was non-existent!
Ernst van der Loo was born in Rotterdam (1974). Studied audio engineering at the SAE in Amsterdam from 1992-1994. Became interested in electronic music and embarked on a study in electronic music at the Institute of Sonology in The Hague in 1999. His main tutors were Kees Tazelaar and Richard Barrett. After his studies he worked as sound engineer for several theatre and dance companies (among which Nederlands Dans Theater). He also kept active as sound designer, performer and composer. Playing live with Léon Spek as Ungrund and with Aslaug Holgersen as Holgersen/van der Loo. In spring 2014 he moved to Oslo, Norway.
Robin Koek + Mark Nieuwenhuis
1. Modular improvisation for 4-channel set-up based on sound bowls, field recordings and patches.
2. Echo Location. Duo-piece for trumpet and electronics. The composition explores the directional nature of the trumpet which allows the instrument to illuminate and reveal the acoustics of a space. The foundation of the piece is the interaction between the acoustics of the actual concert space and pre-recorded fragments of trumpet performed in various acoustic spaces.
Robin Koek (Netherlands, 1987) is active as a composer, musician and designer of artistic systems. Over the years he established a repertoire of various multidisciplinary collaborations. With a main focus on sound art and interactive systems he was involved in projects that range from installation art to interactive dancepieces. These works were shown among others at the STRP Festival, Robodock and at Dansmakers Amsterdam. Recent compositions were also performed in the United States as part of the Duo-X tour. A selection of his works was presented in Toronto, Canada as part of the Transmission Art Symposium 2013 and in Visue, Portugal as part of the Invisible Places symposium 2014.
Koeks works explore states wherein acoustic, digital and analog signals intertwine and form in to one body of sound. Currently his focus is on compositions that explore the spatial potential of sound. These works immerse the audience and construct a new reality. As a musician he stems from a tradion of improvisation and performed at several places like Bimhuis, Rijksmuseum Amsterdam and TodaysArt festival. He is an active member of the Soundlings collective, a gathering of international sound professionals. Koek earned a Bachelor with Honours and a Master of Arts specialised in Sound Design at the Utrecht School of the Arts, Faculty of Music Technology in 2011
Mark Nieuwenhuis (Netherlands, 1981) has been playing the trumpet since his early years. He has an extensive experience on the instrument in many formations that range from European to Arabic and Latin-American background. In 2003 he finished a Bachelor of Music specialized in Composition and Music Technology at the Hogeschool voor de Kunsten Utrecht. Since 2006 he founded his own company Geluidzicht, specialized in music- and sound recording and production for various media. He composed for site-specific theatre, film and installations. He is the official composer of Zaanstad since 2012.
Ángel Faraldo (Spain, 1980) is a musician concerned with the creation, dissemination and teaching of experimental music. Active as a composer and improviser, his work extends into sound installations, site-specific performances and sound design for dance and opera. He is interested in processes that maximise minimal resources, as materialised in his cycle The Feedback Study Series (2010-2013), his digital synthesiser MISS (2009) or his approach toward the no-input-mixer. Furthermore, he does significant labor performing and realising live-electronic music and works as consultant and developer of digital tools for composers and instrumentalists.
About the Wonderwerp series
Wonderwerp is a monthly performance series presenting radical artistic practices that engage with sound, image, space and the body: imagining new tools to articulate everyday phenomena, extending the body, remapping sense perceptions, hacking and reinventing existing media and codes, creating time and space for events which find their preferred storage medium in the memory of participants.

About Studio Loos
Studio LOOS is the hot spot for new music in The Hague (NL), and is located in the multidisciplinary arts building DCR. It is a workspace, laboratory and a public presentation space for artistic research, experimentation, development, innovation and production of interdisciplinary, experimental, electro acoustic music, sound art, improvisation, composition ranging from monomedia via bimedia to polymedia and hypermedia. Studio LOOS is part of the LOOS Foundation, which brings together internationally renowned and yet unknown artists in the field of interdisciplinary new music, who use the space to conduct their research during residencies and rehearsals and present the results of their experiments and their newest work to the public. The LOOS Foundation is supported by the Municipality of The Hague.