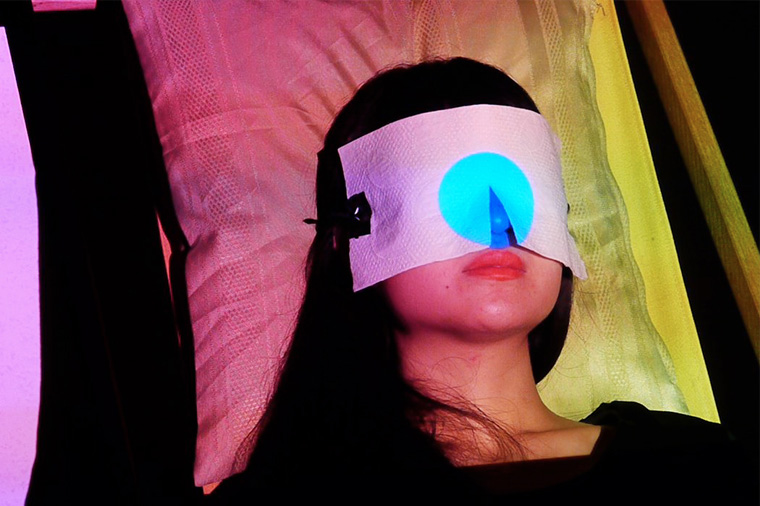 Studio Loos, Thursday March 26th 2015
Quiet Ensemble
Doron Sadja
Marinos Koutsomichalis
Doors open at 20:00, starts at 20:30
De Constant Rebequeplein 20B, Den Haag
Program info:
Doron Sadja  – Color Field Immersion
Based loosely on Ganzfeld experiments (a technique used in parapsychology in the 1970s as a way of invoking telepathy), Color Field Immersion involves masking the audience with semi-transparent blindfolds onto which light projections are mapped.  Similar to sensory deprivation, Color Field Immersion provides perceptual deprivation, replacing the entirety of each audience member's visual field with washes of color, line, and movement – often inducing hallucinations as the brain seeks to replace lost stimuli.  Flipping the traditional performer-audience relationship, the internalized experience becomes the location of the performance.  Combined with rich, textural soundscapes, Color Field Immersion creates a deeply immersive perceptual architecture of sound and vision.
Doron Sadja is an American artist, composer, and curator whose work explores modes of perception and the experience of sound, light, and space. Working primarily with multichannel spatialized sound – combining pristine electronics with lush romantic synthesizers, extreme frequencies, dense noise, and computer-enhanced acoustic instruments, Sadja creates post-human, hyper-emotive sonic architecture. Although each of Sadja's works are striking in their singular and focused approach, his output is diverse: spanning everything from immersive multichannel sound pieces to sexually provacative performance / installation works, and stroboscopic smoke, mirror, laser, and projection shows. Doron has published music on 12k, ATAK, and Shinkoyo records, and has performed/exhibited at PS1 MoMa, Miami MOCA, D'amelio Terras Gallery, Cleveland Museum of Art, Issue Project Room, and Roulette amongst others. Sadja co-founded Shinkoyo Records and the West Nile performing arts venue in Brooklyn (RIP), and has curated various new music/sound festivals around NYC, including the multichannel SOUNDCORRIDORS Festival, Easy Not Easy, John Cage Musicircus, and more.
Quiet Ensemble
artist in residence March 2015
The research of Quiet ensemble goes through the observation of the balance between chaos and control, nature and technology, creating subjects that perfectly merges the those elements, elements that take form from the relation of organic and artificial subjects, moving the attention to insignificant and wonderful elements, like the movement of a fly or the sound of trees. The interest is connected to those technologies that explores the aesthetic and conceptual possibilities deriving from interactivity techniques, apProaching the newest technological discoveries as if they would be the tools for creation, like the brush for the painter. Working on the relation between time and space, sound and image the work of Quiet ensemble changes and develops in time, relating to the space, changing it. Emphasizing the unespected events, refuting the apparent immobility of shapes and melting the appearing opposition of forces in nature. Concrete and abstract shapes are sectioned and remodeled in hybrid forms and balances, parallel giving great importance to the pure aesthetics of forms. Quiet ensemble is born in 2009 from the meeting between Fabio Di Salvo and Bernardo Vercelli.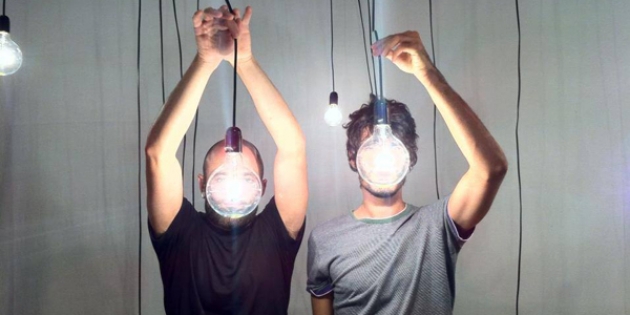 "During the residency we will focus on the natural element of water, having as goal the realization of performance where water in all its forms such as steam, drops, reflections, ice etc.. becomes the main actor and musician. Microphones, speakers, vibrations, resonances, moving objects, swimming insects, sound, music, reflections are the basic elements of the live performance that we will develop".
Marinos Koutsomichalis
Music for variable wavetable oscillators & Walsh function operators (bio-driven version)
The project resolves around the output signals of a series of modulated variable wavetable oscillators and Walsh function operators. For this particular version signals are selectively juxtaposed and transfigured with the aid of biologically-inspired generative processes.
Marinos Koutsomichalis (Athens, 1981) is an artist and researcher.  Via sound and a wide range of other media he interrogates the specifics of perception, technology and material and by means of a hypermedia, project-based and site-responsive methodology.  His work has been widely presented internationally in all sorts of milieus ranging from leading museums and acclaimed art festivals to industrial sites and from underground venues to churches or scientific conferences. He has worked as an artist in various institutions worldwide.
http://marinoskoutsomichalis.com/
About the Wonderwerp series
Wonderwerp is a monthly performance series presenting radical artistic practices that engage with sound, image, space and the body: imagining new tools to articulate everyday phenomena, extending the body, remapping sense perceptions, hacking and reinventing existing media and codes, creating time and space for events which find their preferred storage medium in the memory of participants.
About Studio Loos
Studio LOOS is the hot spot for new music in The Hague (NL), and is located in the multidisciplinary arts building DCR. It is a workspace, laboratory and a public presentation space for artistic research, experimentation, development, innovation and production of interdisciplinary, experimental, electro acoustic music, sound art, improvisation, composition ranging from monomedia via bimedia to polymedia and hypermedia. Studio LOOS is part of the LOOS Foundation, which brings together internationally renowned and yet unknown artists in the field of interdisciplinary new music, who use the space to conduct their research during residencies and rehearsals and present the results of their experiments and their newest work to the public. The LOOS Foundation is supported by the Municipality of The Hague.