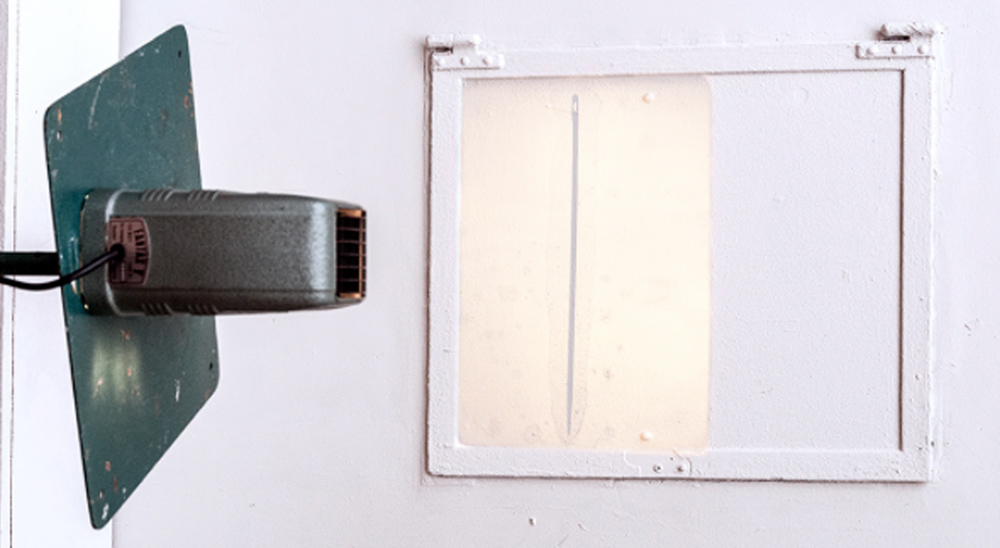 Melissa Cruz Garcia, Voyeurism window (2013), photo by Ed Jansen
Thursday, June 25th 2015
Studio Loos, De Constant Rebequeplein 20B, The Hague
Doors open at 20:00, starts at 20:30
entrance: €3
A seemingly small intervention can completely change what something is or means. A single step might cause or prevent an accident. The smile of a stranger might make someones day. This night is about ideas, concepts, processes and methods to observe, reflect, transform, find, invent, create, build, describe, re-contextualize, destruct, reverse, transpose, solidify, liquify, destill, slow down, reveal, depict, analyze and organize.Melissa Cruz Garcia seduces with a play of illusions, perspectives and perceptions. Maya Verlaak catapults inventions from the past into the future while carefully describing how and where they land. And Adam Juraszek sonically transforms the emergence of intelligence as a phenomenon in physical systems.Curated by Matteo Marangoni and Anne WellmerProgram:
Maya Verlaak
– Reinventing forgotten instruments (2014-2015)
Program details:
New Work (2015)
performance for a cinematic light painting machine
by Melissa Cruz Garcia
A recurring element in Melissa's working process is the research on and development of self-made media. This exploration results in drawings, objects, installations, optical machines and public-rural interventions. The essential components of her art are optical machines made from scratch that are contemporary yet clumsy looking, delicate sculptures, reminiscent of pre-cinematic techniques. Cruz Garcia is interested in an artisan and portable way of creating cinematoscopic machines and digital media. Using purely what the possibilities and the circumstances provide and in contrast with the concept-subject she is currently employing, Melissa aims to formulate hypothetical futures. She takes discarded materials attributed to different cultures, de-contextualizes and refreshes them by a physical and conceptual transformation. Optical illusion and visual perception are essential aspects of her artistic method. As much as the media might be suited to present and reflect reality they are used to deceive and create reality.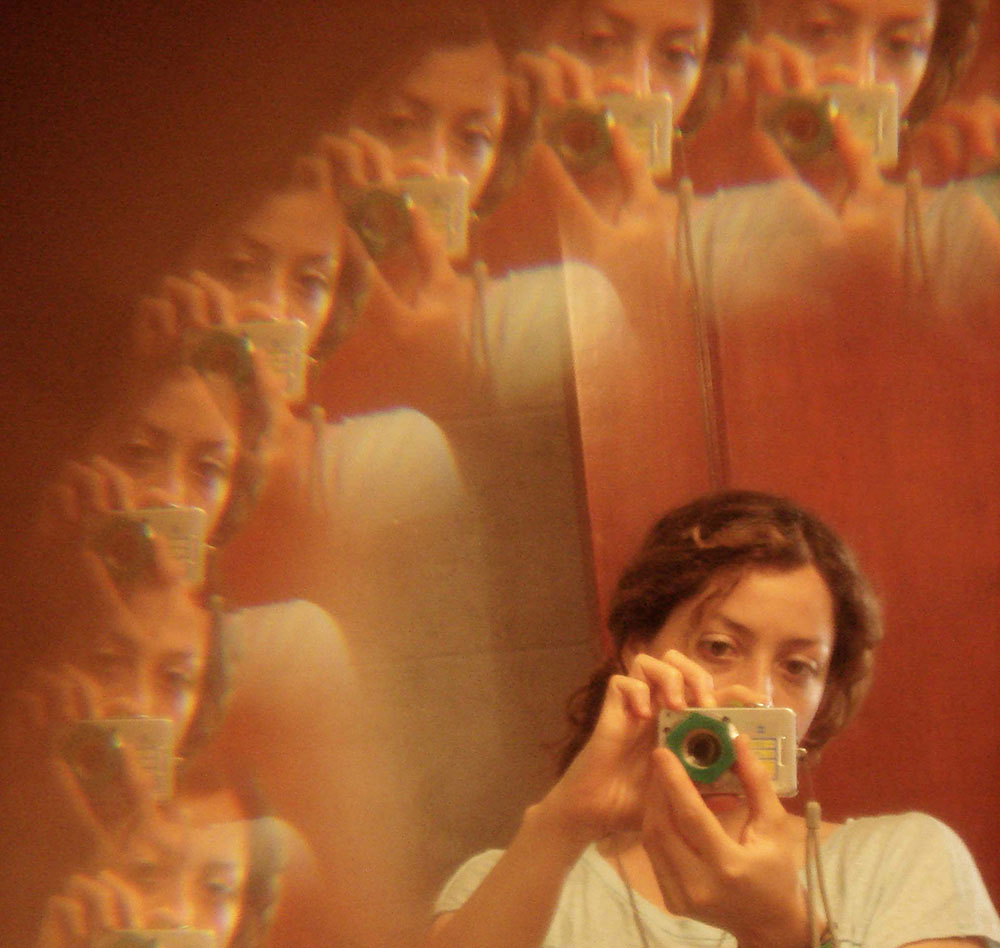 photo by Melissa Cruz Garcia, self-multiplicity in progress (2015)
Melissa Cruz Garcia (COL/NL) is an artist, sculptor and light painter born in Bogota, currently based in The Hague. She studied painting in Florence-Italy (2002-2004) and visual arts in Bogota-Colombia (1997-2001). She graduated from the Royal Academy of Arts in The Hague, Fine Arts-Sculpture department (2004-2008) and received her Master's degree in Music specialized in ArtScience from the Royal Conservatory and Royal Academy of Arts in The Hague (2008-2010). Melissa has been awarded with different prizes, grants and scholarships in The Netherlands, Colombia, Italy and Germany. Her work is included in private and public collections such as the Museum of Contemporary Art of Bogota-Colombia.
Reinventing forgotten instruments (2014-2015)
a performance of inventions
by Maya Verlaak
This performance is the result of a recent series of research exercises: Maya Verlaak contextualizes instrument building within a broad panorama, while taking into account the time and place within which an instrument was invented and looking at the regional, philosophical, scientific, and political concepts of that time. Concentrating on the why's and the how's: with what knowledge, in what political situation was an instrument built, how was it used and established as a musical instrument.The outcome of this research informs a series of concepts for new compositions. Verlaak's reseach serves as a method to reflect on what an instrument is and how composers use and build instruments today.How can (forgotten) instruments, both as an idea as in performance practice, be re-contextualized in music practice and composition today? Maya Verlaak employs the history of instrument building to reinvent forgotten musical instruments and uses the stories she finds to revise her own creative compositional writing.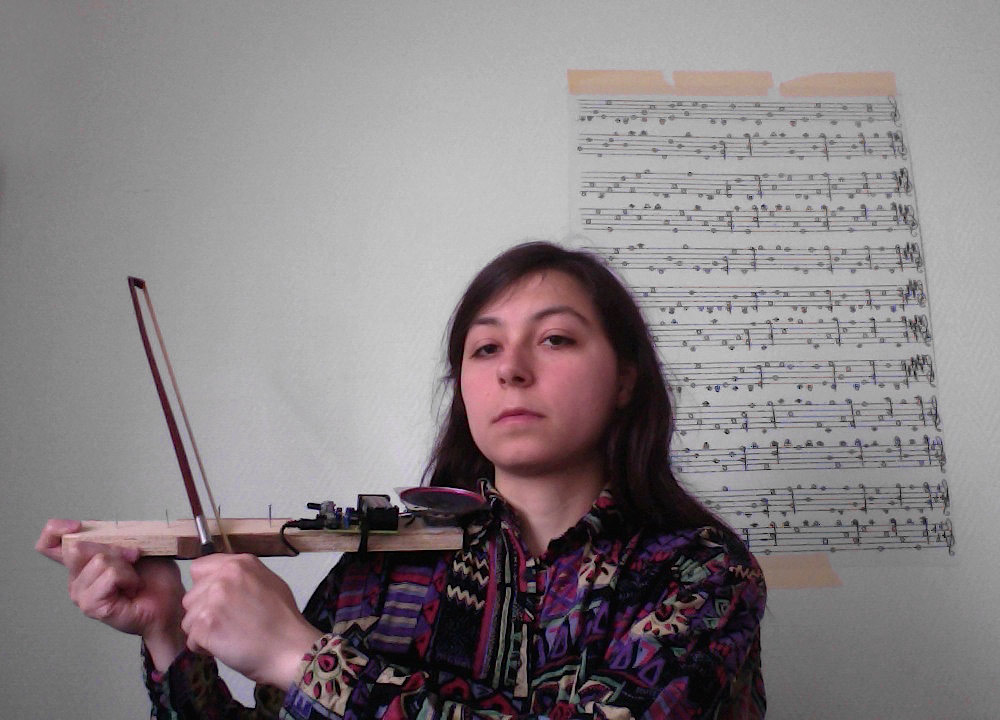 Maya Verlaak with Nail Violin (2015)
Maya Verlaak
 (1990) was born in Gent, Belgium. She studied composition and sonology at the Royal Conservatoire in The Hague where she will graduate in June of 2015 after which she will move to Birmingham (UK) to pursue a Phd in the fall.
Maya writes pieces for instruments and installations, which she creates herself. She also composes for fixed media and classical instruments; she writes ensemble music, orchestral music, for solo instruments and likes to incorporate theatrical elements in her compositions. She wrote pieces for Modelo 62, Ensemble Klang, Rosa Ensemble, Slagwerkgroep Den Haag, BCMG, Thallein Ensemble, Praetorius Ensemble, VU orchestra, London Sinfonietta, ACM ensemble, Acid Police Noise Ensemble. Maya was a composer in residence at Stichting Grasland in Haarlem (NL) and at Vrije Academie in Den Haag (NL).
"Looking back, there is a sustained sense of protest and critique running throughout my work. This combative attitude is most obvious in my piece 'Kidnapping curator Ed McKeon'. However, this "protest" attitude shouldn't always be taken literally. The most important part in my work is the act of reflection which can result in a protest piece but this is not the only direction it can take."
Maya is founding member and artistic director of Acid Police Noise Ensemble.
Kinds Of Light (2015)
laptop performance
by Adam Juraszek
Adam will play a live set based on material he has been working on for a forthcoming EP. The material is partly comprised of sounds recorded over the past year or so in the Hague, processed and combined to suggest physical quantities, processes, impacts, swirling currents, atmospheric pressure or entropic forces.
Adam Juraszek (1989) is a musician from London, currently based in the Hague. He has been involved in metal, math-rock, drone and electronica. Adam is currently studying towards an MA in Sonology in the Hague. His live and studio work explores intersections of noise and the traditions of musique concrète with elements of modern hip-hop and other beat-based musics, and the relationships of musical experience to technology.
About the Wonderwerp series
Wonderwerp is a monthly performance series presenting radical artistic practices that engage with sound, image, space and the body: imagining new tools to articulate everyday phenomena, extending the body, remapping sense perceptions, hacking and reinventing existing media and codes, creating time and space for events which find their preferred storage medium in the memory of participants.
About Studio Loos
Studio LOOS is the hot spot for new music in The Hague (NL), and is located in the multidisciplinary arts building DCR. It is a workspace, laboratory and a public presentation space for artistic research, experimentation, development, innovation and production of interdisciplinary, experimental, electro acoustic music, sound art, improvisation, composition ranging from monomedia via bimedia to polymedia and hypermedia. Studio LOOS is part of the LOOS Foundation, which brings together internationally renowned and yet unknown artists in the field of interdisciplinary new music, who use the space to conduct their research during residencies and rehearsals and present the results of their experiments and their newest work to the public. The LOOS Foundation is supported by the Municipality of The Hague.