With the spring kicking in our hosted program bounces back propelled by an exciting line up of performances and workshops. iii's performance series No Patent Pending continues with two editions focusing on the subtle sounds of everyday objects activated by bodies, movement and machines. No Patent Pending #35 will present performances by the renowned sound art duo Akio Suzuki & Aki Onda as well as performances exploring the performative potential of paper by Kunrad and Paper Ensemble. No Patent Pending #36 will feature Rie Nakajima and Pierre Berthet's collaborative project "Dead Plants and Living Objects" and new work by kinetic sculptor Leslie Nagel.
Azimuth will present two interdisciplinary projects: "Tierkreis, a music fashion film" by percussionist and director Nerea Vera based on music by Stockhausen, and the premier of a the dance project "Hold" by electronic composer Mári Mákó in collaboration with designers Oddkin and dancer Fazle Shairmahomed.
New Emergences will present "Trans and Noise #2" a discussion and concert that investigates noise and the blurring of gender and identity boundaries.
The workshop program features 4 workshops: Introduction to Programming and Text and Image Processing with Sohrab Motabar, Digital Deathmask Workshop with Jonathan Reus and Cybil Scott and Sunlight Photo Printing (for children) with Farah Rahman.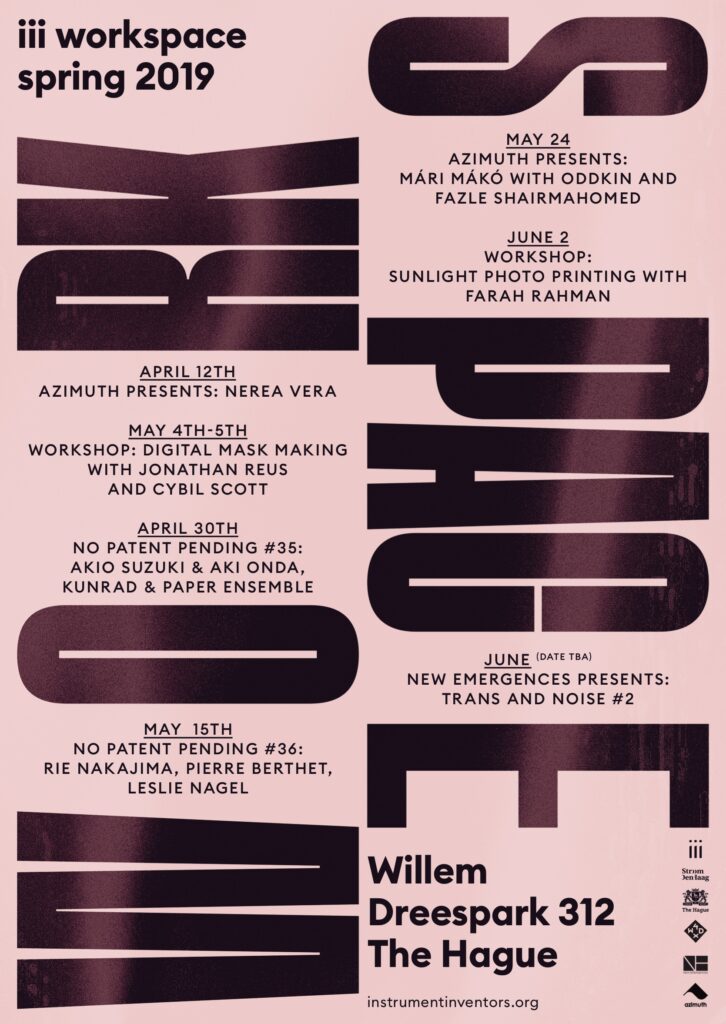 Our hosted program takes place at iii workspace within the cultural incubator WD4X. It is presented with the support of Stroom Den Haag and Gemeente Den Haag. The participation of Akio Suzuki and Aki Onda is made possible in collaboration with Q-O2 and STUK. The program presented by New Emergences has additional support from the Creative Industries Fund NL.