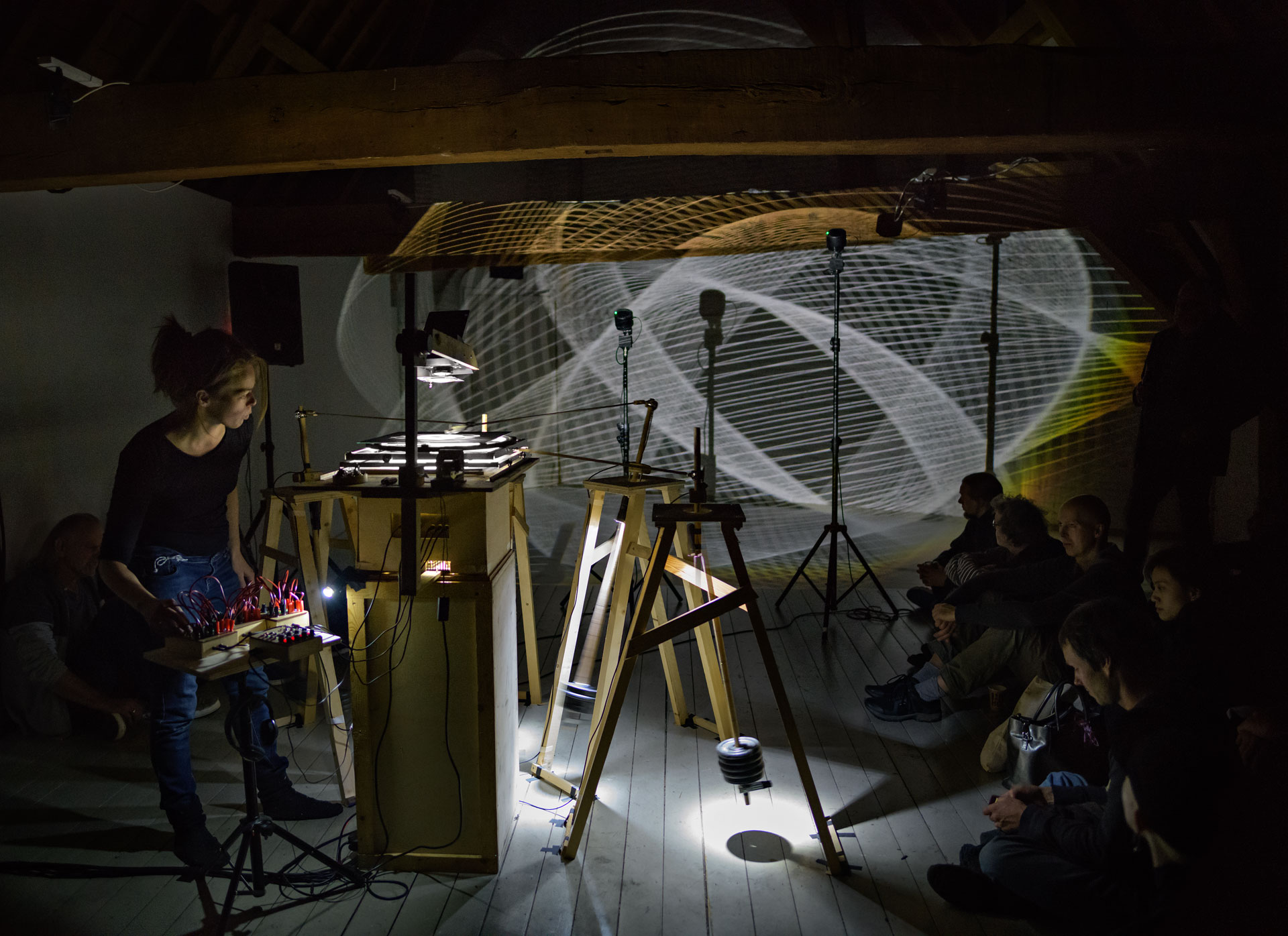 An artist run agency distributing experimental audiovisual performances
In 2013 we created iii with a simple question: can we work together to make it possible to survive with our art? We were all artists making unconventional performances with machines, with sound, light, movement and space. What we love to do is create and show our work. Who wants to see it? Who can pay for it? 
So that is how we created an "artist-run agency" originally starting with the 12 artists that founded iii. Even all together, we were not earning enough from our work to make it worthwhile for an agent to represent us, so in our agency each artist functioned both as a creator and also an agent representing the whole group. Each "agent" could offer to their own contacts their own work in combination with the work of the other members. This way we combined our respective networks, creating new presentation opportunities for each of us. It also made it more interesting for presenters to book us: now we could offer a whole program filled with unique experiences. Together we create a distinctive label. This was the basic idea. 
This model worked, to some extent. Since 2013 with iii we have navigated together the challenges of showing experimental physical, spatial audiovisual performance programs within and outside of the confines of spaces for visual art, music, theatre and in academia, presenting well over 200 shows. Although many challenges remained unsolved, especially in the financial department: it's not too difficult to find an organisation able to pay for one or two days of work to give a presentation, but what about the many months of development needed to create a new piece? What about all the preparation days needed to adapt the work to the presentation setting, to organise production schedules, to arrange travel and shipping, prepare texts and images for PR announcements etc? 
Professionalising iii's agency: the plan
After seven years of operating as an artist-run agency, in 2019 we decided to embark on a professionalisation trajectory to develop our model further. Based on our experience, we made the following list of objectives and questions to address:
Objectives
• Create a position for an agent in charge of the promotion and distribution of iii projects, that will account for 0.2 FTE starting in 2021.
• Grow the variety and quality of the agency's presentation network, by approaching new presentation partners (festivals, museums, theatres) and by initiating international bilateral exchanges with peer organisations abroad.
• Increase the turnover from larger contracts (currently we have 1 or 2 contracts per year with presentation partners paying €10,000 or more, we need more assignments on this scale or larger).
• Increase the negotiating power towards presentation partners, by leveraging the new policies over fair payment practices within The Netherlands, and by making clear guidelines for what artists should demand when invited to present their work.
• Provide more clear contracts with artists and encourage iii members to make more use of iii to mediate with their clients.
Questions to work on
• Defining what organisations are interesting for us to connect to
• Defining what types of relationships, collaborations and exchanges we want to establish with other organisations
• What products do we offer, what activities, artworks, workshops, packages etc
• How do we present our products (online PR, portfolio etc)
• What is the business strategy of the agency and our revenue model
• What is the organisational structure of the agency
• What is the role of the agency in mediating between iii, the artists and third parties
• Making contact with (potential) partners for presentations and international exchanges
• Develop a distribution and international exchanges plan for 2021-2024
Coaches: Remco Schuurbiers & Carsten Seiffarth
For this part of our professionalisation trajectory we worked with two coaches experienced in the presentation of sound and media art. Both of them lead organisations which work at a high international level in our field and which represent models that we were eager to learn from.
Remco Schuurbiers is co-director, curator and producer of Berlin's CTM festival & DISK-Agency and program director of TodaysArt Festival in The Hague. We have worked with him regularly to present iii artists in both of the festivals he programs. Like the majority of iii members, he studied at Image & Sound (now ArtScience) in The Hague and has a close knowledge of our artistic field. His expertise as festival organiser and agent is focused on electronic music and new media art.
Carsten Seiffarth founded in 1996 in Berlin the sound art gallery Singuhr, one of the most internationally recognised organisations in the field of sound art. Since 2010 he has been curating sound art exhibitions internationally and has organised a number of exchange projects between Germany an non-european countries (Chile, Mexico, Senegal). His focus is on sound installations that connect the domains of music, visual art and architecture.
Comparing different distribution models
We started the coaching period by describing our organisation and working model to both coaches. What works well, what problems we have encountered, our objectives for the future. Then we looked at different models: where does iii's agency sit compared to established models? What can we learn from them and can we combine multiple existing models to fit our needs?
There are several existing models for organisations representing artists and distributing their work. On the commercial side, visual art galleries sell artworks produced by a small group of artists (their "stables") and take a commission, often 50%, which covers their costs for the gallery space and staff, PR campaigns, representation at art fairs etc. Traditionally this relationship is exclusive (the gallery makes a large investment in promoting the artists it represents, if then artists simply can leave as soon as they are successful, the gallery will not recover the investment made). This traditional model is based on the sale of physical artworks to collectors. Selling experiences, as we do at iii, although relevant to visual arts, is another type of business. When performing in (commercial) visual art spaces, when there is nothing to sell, there is also rarely any income for the gallery to split with the performing artist. On the other hand a performance can function as an investment in PR that attracts interest for other object-based works on sale, but then it's more common for the performing artist to also offer some sort of residual artefact that can be sold to collectors. There has been very limited experience within iii of this type of arrangement and it's not a model familiar to our coaches either. There is no shortage of sound and media art projects presented in major visual art settings such as the Venice Biennale, but we lack connections to professionals operating in such contexts able to provide us with an insight into that world.
In the field of music there are established models for selling performances. There are record labels, management agencies and booking agents that operate differently. A booking agent will typically take a commission of 10%, the job of the agent is mainly to get a booking contract secured, but is not involved in the actual production and presentation of the performance or in negotiating complex agreements for ad-hoc presentations. This is a model also used by DISK Agency. A typical booking for an experimental electronic music performance (one person show) earns the performing musician a fee of €1000 (ex travel costs) and the agency gets a booking fee of €150 for taking care of the contract. The presentation format and the production routine is standardised: short soundcheck, performance, everywhere it works in more or less the same way. The model scales well with performances that can be repeated over and over at many venues: you need a lot of bookings to justify the work of an agent at the rate of €150 per show.  A touring musician in principle can give 100+ public performances per year, a performance taking one single day, and still have enough time to develop new material for next year's tour. In our field the number of presentations in a year is usually an order of magnitude lower. This booking agency model does not lend itself as well to site-specific interventions that require development and adaptation to the location, setup of more complex equipment or a deeper engagement with a local community.
An interesting model pursued by CTM through EU partnerships is that of the European festival network. In this model multiple festivals in several countries agree to share the costs to commission the production of new work, which will then be presented at multiple festivals. This guarantees in advance a wider circulation and a larger audience for the work, which makes it easier to secure grants to cover the commissioning costs, both at the national and EU funding level. The presentation of the performance can then be combined with other activities such as a residency and educational workshop that increase the value for a local community. This makes a lot of sense, as in our past experience with the agency we have noticed that presentation partners are less interested in presenting existing work and are excited instead in being involved in the development and presentation of new work.
The sound art gallery model adopted by Singuhr offers another interesting example. Singuhr presents itself as an organisation which produces site specific sound art installations. It operates within the public cultural sector in a (German) context where the focus is the cultural value and quality of the artistic work (as opposed to reaching big audience numbers). Project costs are covered by public grants channeled in different ways, often through partnerships between several organisations supporting development, presentation and exchange. What is fundamental in this model is also that the curator-producer and the artist receive adequate compensation. For a ballpark figure, a single site specific installation commissioned to one artist should have a total budget in the range of €25.000 – €40,000, which covers artist fee, curator, technical assistance, materials, publicity etc. If we speak of a single group program involving a small number of artists then we are talking about a budget of €100,000+. This enables the curator to work with the artist(s) over a period of several months to develop and present the work, with all labour being paid at professional rates independent of audience reach and ticket sales. Unfortunately these types of budgets are well above the range of what iii has been able to secure over the past 7 years. The model of Singuhr works within the German cultural sector, where factors such as audience reach, cost per person and direct income from ticket sales are less stringent compared to the Dutch cultural sector. It's accepted that the audience numbers and income generated by sound art presentations should not be compared to the audience numbers of a pop concert. Singuhr has organised several international projects, for example in Mexico and Senegal. It's interesting to note that even in these cases, a large portion of the funding (not only for travel but also development) was provided by German cultural funds aimed at international exchange. This is again not comparable to the Dutch situation, where national cultural funds are generally limited to supporting travel costs for projects abroad. While inspiring for iii, the model of Singuhr needs more work to be adjusted to fit the specificities of the Dutch context. One of the strengths of Singuhr is in its publications, which have both documentary and promotion purposes. Singuhr invests in high quality publications realised with a distinctive publisher that contributes significantly to its visibility and positioning.
Developing a hybrid approach: is it still an "agency"?
Based on our sessions with the coaches we developed our plan for the agency for 2021-2024. We developed this plan in collaboration with Anastasia Loginova, a fresh ArtScience graduate with a strong international background in Art Business.
With Anastasia Loginova we defined the new role of an agent in charge of distribution. We discussed how the agent will work in collaboration with artists to generate opportunities. One challenge that we currently experience is that the volume of our distribution is high, but income is low, generating a lot of work and communication that is not paid. A priority of the agent will be to filter opportunities that are financially worthwhile. The agent will then have time to invest in developing relations with partners that are able to provide adequate support to joint activities.
For the position of the agent within the organisation, we made a flexible agreement based on performance. The agent will have one day a week of fixed paid work, which will be used to invest in making new connections and growing our network. In addition to this one day per week, the agent will manage the presentations mediated by the agency. These presentations will be either shows which have been secured by the agent, or shows that artists have obtained themselves, but which the artists need help managing.
We also discussed at length the definitions of "agency" and "distribution". These terms can be problematic as they don't fully align with our organisation. Our objectives and activities are quite different from a commercial artist "booking agency". iii is a non profit association, our objective is to support the development of the field of Art, Science and Technology, promoting the growth of an emerging field by creating opportunities for artists to present their work, generate income to sustain their practice and offer exciting and beautiful experiences to the public.
In this non-profit model "direct income from sales" is one of several income sources that help us to reach our objectives. We differ from commercial booking agencies also in several other respects: we don't have exclusive agreements with artists; we don't only offer talent (artists) but also curatorial and production capacities; the agency is not promoting exclusively the artists that are members of iii, non-iii members also feature prominently in the shows mediated by iii's agency.
Not finding a better term than "agency", we came to the conclusion that this needs to be further clarified as "agency promoting the circulation of artists and facilitating cultural exchanges".
To support the growth of the agency we outlined several new activities and connections with the rest of iii's program. We will regularly invite curators and programmers to visit our workspace and presentations, as part of the "hot communication" that will be a new focus in our communication strategy. The agency will work closely with iii's residency and production program, investing more resources in commissioning new ambitious projects. The agency will work with the rest of the organization to select projects that have the potential to circulate broadly. The agency will work on organising co-production agreements with international partners. iii will also develop fair practice guidelines for our field that will support the agency in negotiating agreements between presentation partners and artists. Finally we will make an investment in publications, which will help our agency gain better visibility and reach.
The objective of iii's agency remains to make it possible for artists to create and present exciting new work and connect artists to audiences who are curious to make new experiences. Developing a new artistic field presents challenges. The current presentation network for our field relies heavily on volunteer work, which is financially unsustainable for (aspiring) professionals. The quality and depth of experience that professional artists can offer to their audiences is worthy of better support. There are several revenue models that we can adopt to generate adequate financial support for emerging practices. These include private commercial models as well as models used in the public sector. It's important to keep an open mind and to learn from many fields, as each project is unique and features unique challenges and opportunities. As an organisation we need to constantly learn how to involve in our activities different people and organisations, each with their specificities in terms of values, what they offer and what they are looking for. While we can see clear patterns emerging from past experiences that suggest useful approaches, there is not one model that fits all situations. Having the capacity to understand, combine and mediate between many different value models is crucial when operating in an evolving international and interdisciplinary context. Communicating such a flexible approach presents its own challenges. Defining ourselves as an "agency" has connotations (as in "booking agency") that don't fully represent what we do at iii. In the absence of a single word to define what we do, for now we settle with "agency promoting the circulation of artists and facilitating cultural exchanges", which better suggests the nonprofit motive, where longer term investments are made in connecting people and generating creative and cultural exchanges.
More concretely, to make our practices financially sustainable we can pursue two directions. On one hand we need to work with presentation organisations that are able to offer better working conditions. This can be done in part by persuading (and pressuring where needed) professional, state funded cultural organisations to follow fair payment practices (for example we should refuse to present our work as volunteers when invited by museum curators and festival directors who receive a salary for their work). We can also increase direct income from presentations by investing time in developing connections to new presentation partners that already have the resources and organisational culture to offer adequate financial compensation to the artists they hire. On the other hand we can also compensate for the financial weakness of the distribution networks in our field by securing resources on our side. It is not always necessary for all costs to be carried by presenting organisations as long as there are alternative sources available. For example we can use the model of Dutch theatre production companies: once we have confirmed a number of presentation partners that contribute co-financing and audience reach to our project or program, we can seek to raise the remaining financing ourselves. This solution requires a strong enough relationship with a network of presenting organisations who are willing to plan and commit in advance to showing work that has yet to be created. When as creators we are providing co-financing to make the presentation possible, our presentation partner must also acknowledge this in the agreements we make and in communication: we become no longer only a supplier of a service but also one of their partners.