An artist run organisation towards structural funding
In 2013 iii was formed by 12 artists to work together to make it possible to survive making art. Since then the organisation has developed further, while still keeping to the basic elements of the organisation: bottom-up, do-it-yourself but not alone. This distinguishes iii from how other cultural organisations in the Netherlands function: most are foundations and centrally organised, while we are an association with a collaborative organisation that is artist-driven.
Where in the beginning the focus of iii was on presenting the work of the members, since 2015 iii is organising a residency program and public program, and in 2017 we obtained a location with artist workspaces and a project space. Since 2019 our program has been growing in the amount of activities, and we have been planning to obtain structural funding from 2021 onwards, on both the municipal and the national level.
While we realised that we were outgrowing the annual program regulation of the Creative Industry Fund NL (which we had been receiving since 2014), we also had to find out how we could solidify our organisation and increase our budget (also with an eye on fair practice and ensuring that we can pay everyone involved in our organisation and activities properly), develop a sound business model, and keep true to our mission. We had to find out how we can best explain how we are organised and what the strengths of this model are.
Two main parts of our program we wanted to further develop: our workshop program, and distribution of these workshops elsewhere, and our agency: distribution of the artworks we produce to a wider network. Both of these were separate topics in the coaching trajectory, but each also had a business component to it.
Starting points for the professionalisation trajectory
In our application for the professionalisation grant from SCI we listed a few goals for our business development:
* Significantly increase our annual budget during the 2021-2024 period, compared to the 2017-2020 period. Our annual turnover for 2018 was €147,205. Our target is to raise our annual turnover to €400,000 in the period 2021-2024.This result can be obtained
– increase the public support that we receive, making this commensurate to the volume and quality of our program. We aim to increase public financing from €85,000 per year to €275,000 by obtaining structural support both at the local and national level.
– increase the direct income generated by our agency, from €35,096 in 2018 to €75,000 per year.
– increase support from private funds.
– obtain ANBI status and receive private donations.
– improve how we present ourselves to funds and institutions, by improving how we prepare and publish annual reports.
* provide stable employment for our personnel, reducing our reliance on volunteer and freelance work, and increasing our FTEs from 0.5 to 2.0.
* increase the income that iii generates for its associated artists by strengthening the agency role for distributing workshops and artworks developed by iii members and guest artists of iii, as outlined below (see Education and Distribution).
Our coach for this trajectory on the business development was Jorgen Karskens, who is financial director (zakelijk directeur) at Sundaymorning @ EKWC, and has previously worked at AFK (Amsterdams Fonds voor de Kunst) to coordinate the multi-year subsidies for art institutes in Amsterdam.
Before the coaching trajectory started, we had (at the start of December) already submitted our multi year plan to the City of The Hague. This application, together with our analysis and goals formulated in the professionalisation grant application, were our starting points for the coaching. Before we started the coaching sessions, we sent Jorgen these materials to get to know our organisation and our questions.
We had six coaching sessions with Jorgen in total between January 24th and May 5th.
In the first two sessions we focused on the bigger picture: what are the strengths and weaknesses of iii, where do we want to go, and how do we position ourselves within the cultural field – what makes us different from other organisations in our field?
Then in the next two sessions we focused more concretely on practical questions of scaling up to being an organisation with structural funding and making and presenting the budget for that, and inventorying our sources of income and thinking about what other sources we could find.
We addressed each part of our program, and looked at the risks of our business plan.
The last two sessions we mainly focused then on how to implement what we learnt in these sessions in the multi year funding application to the Creative Industry Fund NL: that is where we translated our findings from the coaching trajectory into our future plan.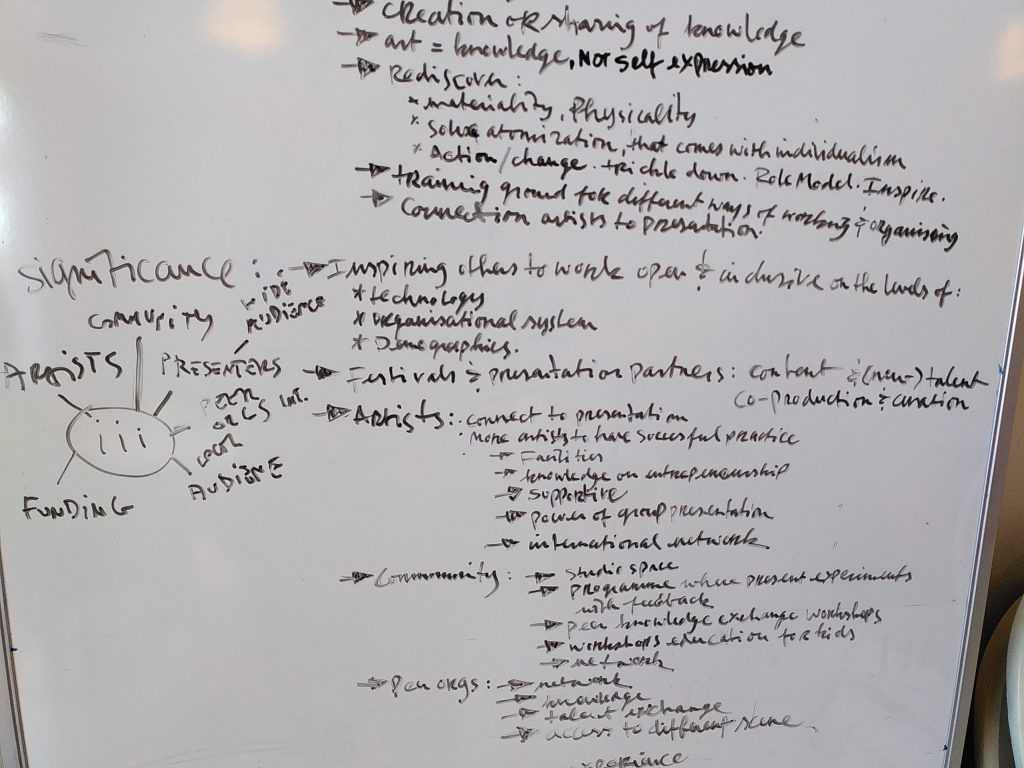 We did a close analysis of what we do, who our stakeholders are and what we offer to different stakeholders. This analysis helped us to get a more clear idea of how to present ourselves to these different stakeholders. They are both external to our organisation: audience, funds, the city, artists (local and further away), and internal: our members and team.
Artistic focus: performance, technology and the senses
Our artistic focus is on the connection between performance, technology and the senses. We aim for artistic experiences that deliver a performative sensory experience, make use of new (technological) inventions and have a conceptual base. In other organisations in our field we often find two of these elements, but not all three together, combined.
Organisation model: do it yourself but not alone
Our organisational model is bottom-up, we are completely run by artists with an active practice, and we give the perspective and needs of the artists the first priority. We are also a very diverse organisation, coming from all over the world, cross-cultural dialogue is our everyday practice. We have a sound gender balance, both in our program and in our organisation.
Our organisation structure is flexible and open: any of our members, workspace members, or artists that approach us, can organise a project. We receive the proposal, and help the initiator to create a plan and a budget, and if necessary help to find additional funding for it. This makes our program diverse: many artistic visions contribute to the program, rather than one single vision from an artistic director. It also ensures that the activities are close to what artists are interested in: it springs directly from their initiative.
This is a particularly important point for us: to stress the value of having a fundamentally open organisation and program, also because we often run the risk of being judged as "incoherent" or lacking a clear curatorial direction for our whole program. So it is important to clarify that we are trying to do something else.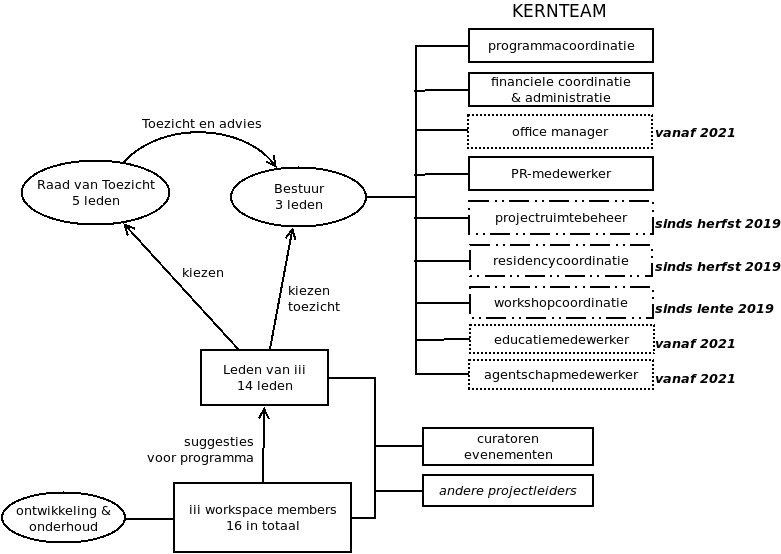 Talent development in Art, Science & Technology
The activities that we do (supporting productions through residencies and commissions; presenting works in our community program for experimentation, and then in broader circulation; reflection through documentation, interviews and publishing) all contribute to talent development in Art, Science & Technology. We provide paid opportunities for fresh graduates from Art Academies, and bring them in contact with established artists in the field, and expose them to a broad international network for presentation and exchange. In addition we host workshops to learn and share skills or do joint research.
Positioned in The Hague, we in particular support artists coming from the ArtScience Interfaculty and the Institute of Sonology, and provide a way for those graduates who stay in The Hague, to start or continue their career in the arts. We also provide workspace for artists, specifically catered for artists that align with our artistic focus.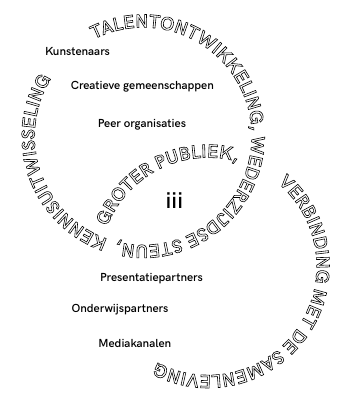 Stakeholders
The overview of our analysis of stakeholders and what we offer is below:
iii is a connector that brings together diverse groups and professionals:
(TALENT DEVELOPMENT, MUTUAL SUPPORT, KNOWLEDGE EXCHANGE),
Artists
Creative Communities
Peer organisations
(WIDER AUDIENCE, CONNECTION TO SOCIETY)
Presentation partners
Education partners
Media channels
Balance of income sources
Our income sources consist of: membership contributions, workspace memberships (renting out workspace for artists), direct income from activities hosted at our own space (presentations and workshops), presentations at other institutes ('uitkoop/partage', basically fixed fees for presenting), and public funding from local and national level.
We discussed whether donations or a friend circle would be a model to further pursue. For donations then an ANBI-status would be useful, especially if people want to give larger donations. For both of these, we need to investigate more how much interest there would be in supporting our organisation in this way, to see whether it leverages the amount of work to do it. We discussed the idea of having an annual fundraising campaign to support the upcoming year program, where as perks we could offer access to performance previews and dinners with artists and crew.
The direct income from our activities is divided in ticket sales and donations related to our hosted program (in our workspace), the participation fees for workshops, and presentations (performances/exhibitions/workshops) elsewhere.
Public funds in the Netherlands look at the cost per person in the audience: how many costs are made for an audience member to experience an event, and how much of those costs are paid by the public funds, and how much by the audience themselves, or are covered from other sources of income. The budget needs to take into account on one side the need to pay artists fairly, and on the other side a reasonable cost per person. The audience reach of the activity is then an important factor in determining what the maximum cost for that activity can be. Between these two sides a balance has to be found and enough people need to be reached. The audience reach can go beyond the people physically present at events through documentation, that is then distributed online.
In our organisation, we have a strategy of a small scale, accessible hosted program, that functions as an experimental platform: a place to try out new content and new formats, and get first audience reactions and feedback from peers on these, before presentations go to venues with a larger audience reach. So, our hosted public program is part of our method of developing new work, more than a method of reaching a broad audience directly. So our hosted program is only part of the picture: the investment in this development platform is justified in that some of the projects incubated at iii then reach a large audience via the agency in our circulation program.
With that experiment, then also goes that if an event has been done a few times, and does not seem to be gathering attention, then it makes sense to change the experiment, or stop and make space for a new experiment.
Another component in our income sources we still need to further develop is funding coming from private funds. In the past we have gotten funding for specific projects from Prins Bernhard Cultuurfonds, but others we have not yet pursued or been successful in. One of the challenges is finding private funds that support development of work, rather than presentation of work. Another opportunity is to look for funds that will support our education activities. From a first inventory of funds, it seems there are quite a few possibilities there. In our multi year plan we are aiming to get funding from VSB Fonds and Fonds1818 for that part of our plan.
The importance of including private funds was made clear to us: this additional support, even when it is sometimes relatively small, is a good sign for the public funds to support a cultural organisation as well. It is another way of showing that our activities are regarded as important by several stakeholders in society.
For the agency (distribution) we are envisioning some additional income sources such as support from Dutch embassies abroad, or sponsorship from companies.
Balance of overhead and program costs
We took a careful look at the balance between overhead and program costs, and how to label different elements in the budget.
For structural funding it is important to have not too little overhead costs, as then the question arises whether the organisation needs structural funding. On the other hand, if the overhead costs are too high, then it appears that the organisation is inefficient. A percentage of 15 to 20% is considered to be a reasonable balance between overhead and program costs. Having this amount also ensures that even if there are significant changes in the programmed activities due to unforeseen circumstances, it is still clear that a basic amount of funding is needed for the organisation, to deal with those circumstances.
One particular example was also where to put PR costs, to make clear from the budget overview how much money is spent to promote the program (activity costs), and how much to promote the organisation as a whole (overhead costs). The balance that we made there in the end for the personnel costs for PR were to assign 80% to activities and 20% to the overhead. For our main coordinators (program and financial), we made a division of 55% activities, and 45% overhead.
Stable employment and responsibilities
Over the past 6,5 years we have worked solely with people getting paid as self-employed freelancers hired to execute particular tasks. From 2021 we will hire people as employees. This will give the core team more stability, but also means that we will have to take care of a number of things that we did not have to before: administration for the employee salaries and the taxes, insurances for accidents, travel, and illness. This also brings some challenges: estimating correctly how much work hours are involved with each job so we can offer the appropriate contract, and balancing the flexibility that our organisation thrives on, while also providing stability for the employees.
With the expected turnover and the amount of subsidy that we will receive, we will also need to scale up our systems for accounting and get an external accountant report each year.
Risks
In our plans we are aiming for an increase in direct income coming from circulation/distribution of presentations and workshops elsewhere. We are investing in basic positions within our organisation to develop the contacts and build relationships with presentation partners, which will then generate income out of realised projects. Our goals to increase this income are ambitious, but we are confident that our approach limits the financial risk: the additional costs are related to the realisation of projects, so if projects are not realised, then we don't have the income, but also not the costs. We have planned a basic budget to develop the relationships, that is not dependent on the income generated from the projects, especially in the beginning of the coming years.
As we keep developing new content (new workshops, new artistic work), we always have new artistic content to offer to our presentation partners (current and future).
The coaching received in the education coaching sessions helped to understand how business can work: how we can approach and offer workshops to schools, differentiate between different target groups, how we can offer workshops in festivals, and how we can reach amateurs and kids to come to our workspace to attend workshops.
The coaching in distribution helped us to understand how to build up connections to curators of festivals and venues, and how to develop projects with them. It also made clear that this is a process that needs time: months, sometimes years, before – especially big – presentations come together after the initial contact.
As we are writing the report, we know that our applications for multi year funding were successful. The goals that, in the Summer/Fall of 2019, we set ourselves, now seem to be coming into reach. This demonstrates how clearly defining and communicating goals can be effective!
We are looking forward to a four year period of organising many great activities and supporting a lot of artists in their work. We are currently working out in more detail our workflow and are steadily preparing for the coming period 2021 to 2024.