STARTING POINTS

Between February and March 2020, members of iii took 3 PR coaching sessions with Richard Foster from WORM Rotterdam to professionalize iii's communication strategies. This report summarizes what we have learned in these sessions and what we will implement in our own communications team. 
iii is an organisation completely run by artists. We believe that artist-run organisations play a fundamental role within the cultural sector, offering a contribution to the sector that is clearly differentiated from what other types of institutions offer. 
As our organisation and program continue to grow, it became clear that we lacked some of the expertise expected from a cultural organisation in areas such as business, administration, education and PR. This coaching trajectory was aimed at increasing our internal organisational capacity. We expected this trajectory to support the growth of our organisation so that we can reach our goals more effectively, without changing the basic form and values of the organisation.
AREAS OF IMPROVEMENT
We identified the following areas of improvement with regard to PR:
1. It is challenging for our organisation to reach audiences outside of the artist community directly, unless we rely on a third party organisation (festivals, theatres, museums) to make the connection with a broader audience.
2. Our program receives less media attention than it merits, due to our very limited capacity to reach press channels directly. 
GOALS
We have set the following PR goals to be achieved over the course of the next four years:
Improve how we present our organisation and program on our online channels, to make our activities more clear and accessible to each of our stakeholders

Aim to reach a new local audience in our neighbourhood of Moerwijk
Increase audience attendance at hosted events, from 700 per year to 2000 a year by 2021 (number of hosted events will also increase proportionately). 
Increase website traffic from 7850 distinct visitors in 2019 to 15000 in 2024
Increase Newsletter subscriptions from 1035 in 2019 to 2000 in 2024
Increase facebook and instagram followers from 3210 in 2019 to 10000 in 2024. 
We aim to increase the media coverage of our program to include interviews, reviews, and event promotion in more art and sound blogs, local newspapers, radio stations, and specialized magazines such as The Wire magazine and Gonzo Circus.
COACHING SESSIONS

We invited Richard Foster to share his approaches to PR and help us address the questions and goals we set for ourselves. The main topics we covered were: Branding, workflow, PR strategies, website design, reaching traditional press, and how to use audience reach data.
Strategies of Branding
In defining an identity, classic marketing starts with the statement that this is what a business or organization does and this is how they do it. This message is then distributed to see what sticks with an audience. For cultural organizations like iii that connect more to specific communities, the following process might work better:
Understand what we like

Figure out who we are based on our interests

Find out who our partners are

Determine our positioning in The Hague and how that relates to the wider world

Perform our message and identity
As an art organization it's important that our message changes with changing times and that it reflects current affairs in the world.
We also discussed the following communication strategies that WORM uses:
Hot communication focuses on physical, in-person communication which includes going to events, talking to people, and handing out photocopied flyers.
Lateral thinking is an approach to coming up with new methods and content by evaluating PR mistakes and stepping to the side to see where the answer could be. It is an approach that creates counterintuitive combinations and methods that add to a unique identity for an organization. For example, if one event has a lower turn out than expected, it is important to evaluate this and identify what the event
Morality out of mess
Morals are important. What is considered "waste" is also important. Anything done for free, byproducts of a show or a creative process can still be a part of the story to continue the afterglow of an event. These extra elements add to a rich history of an event and ultimately to the history of an organization. But use strong ethical guidelines to guide what you do with it.
Ultimately, the main point is that PR needs to be personal and needs to have has a story that is able to germinate somewhere else such as a human interaction or from history.
Communicating to different audiences
iii engages in various activities and also needs to communicate to different audiences (funders, general public, partners, press, curators). Because of this, we have found it difficult to neatly communicate exactly what we do as an organization to our different stakeholders in terms of design, content, and tone.
Who are we?
In response to these issues, Richard pointed out that it is important to start by asking ourselves questions that we can also pose to our public. For example, we could start with "Who are we?" We can then expand to questions like "Are we an agency?" "How do we engage our audience?" "How do we place ourselves in a community?" And we can start answering these with the reasons why we identify ourselves in this way. These questions will ultimately inform all communication including web design. Once we have these questions we can then personalize the design.
Design
With regard to our website communication and design, the main feedback that we received was that we need to adapt our design to changing platforms and hardware use and also center the people involved in our program and community.
iii's website is very much a desktop website but we need to consider handheld communication in the design. Concrete suggestions for this included designing the website to be scroll-based and built for the phone screen and thumb culture, organize categories based on information that needs to be accessed about the past, present and future (legacy, community, agenda). Static information such as contact and location information should be easily accessible whereas the agenda can be scrolled through.
Personal Touch
One of the main points we kept coming back to was the fact that we need to put people first in our communication and give space for people to tell their stories. This means using more images of faces on all our platforms and making room for artists and audience members alike to tell their stories.
Iii's main objective is to facilitate the local community in The Hague and to communicate their activities to an international audience. Currently, iii does this by arranging interviews with resident artists on Jegens & Tevens, to give readers a deeper insight into the work and through process of resident artists. This year we also started a radio program "Rumoriii" hosted by Arthur Elsenaar which consists of interviews with different artists in our upcoming programs in an attempt to reach a different audience. 
We also make video interviews of individual artists and also of group shows which are then distributed via Instagram and FaceBook. We have found that these interviews are distributed by the artists themselves much more if they are focused on their work alone rather than on a group show.
Taking these as starting points, iii needs to focus more on creating content that can be easily circulated. This can be done by centering the human relationships in our program and our audience, telling our story by making space for the stories of our community, and giving our program faces and personalities. On a practical level, this means highlighting people in our program, interviewing them, interviewing audiences, picking stories that are meaningful and sharing them on our social media platforms.
The main takeaway from this point within a PR context is that if we emphasize our relationship with our audience and feature people in our community, it is more likely that our content and events get circulated more. This enriches our story and forms our visual identity, which in turn creates noise around iii's program, which will attract the attention of the press and funders. 
A visualization of how iii could navigate these relationships: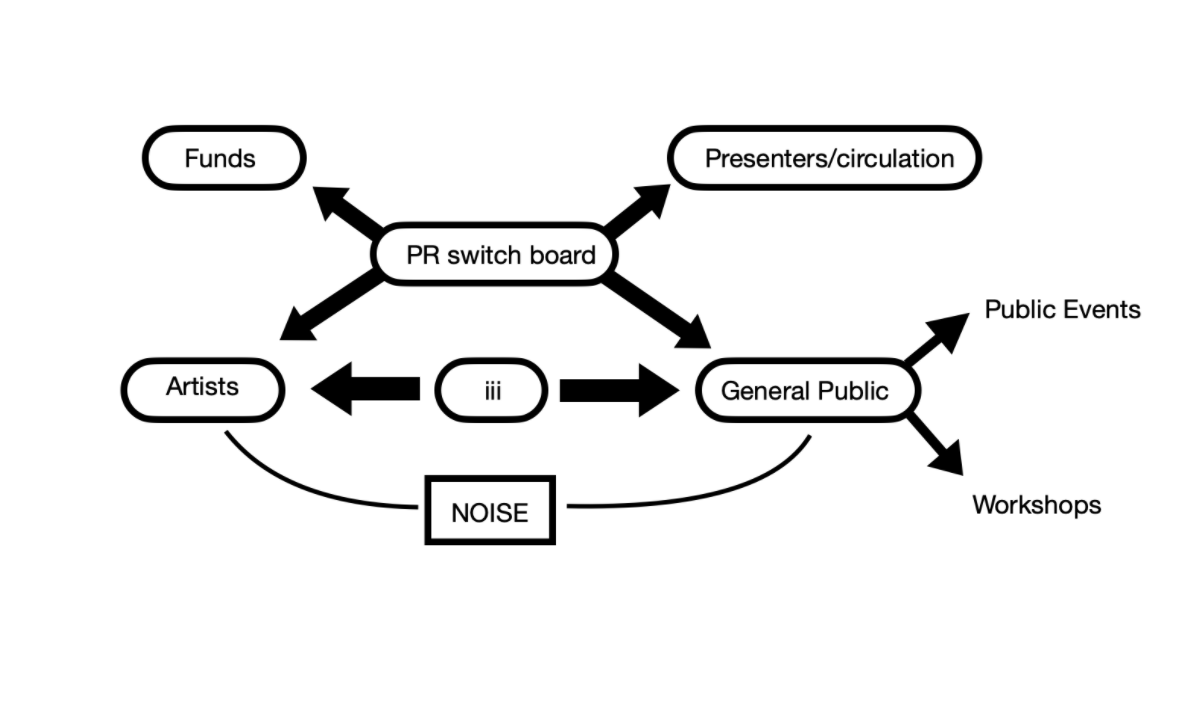 WORKFLOW

Working with Artists and Programmers
As iii's program grows, so does the workload of the PR team. This means a lot of time is spent setting deadlines and chasing after artists and programmers for information to be published. To  minimize this work, it is good to set a regular tempo of working so that all event programmers can get adjusted to the rhythm of collecting information and passing it to PR on time.

Overall, WORM's schedule consists of the following: on the first day of the month, a brief overview of the month is released. Within the first two weeks, information on all events is collected and published online. A set of posters is then created for events happening two weeks later.
WORM also divides their work periods into two week phases, content weeks and agency weeks. Content weeks consists of simply collecting and putting the necessary information up online, while the agency weeks consists of collecting stories to come up with relevant content to post. Agency weeks are also where the PR team can exercise more creativity and come up with their own ideas. 
Another suggestion is to write your own standard texts for different kinds of events (No more than 150 words). This functions as a safety net in case event programmers do not deliver their information on time.

Team Work Ethic
WORM's PR team consists of 2 main people and a rotating list of freelancers. Their team make time for more informal in-person meetings, which generates more energy and ideas for strategy and content. Occasionally changing the work environment also helps to stimulate sustained productivity. Constant evaluation of event attendance is also essential to identify and improve on issues in working relationships, process, and approaches.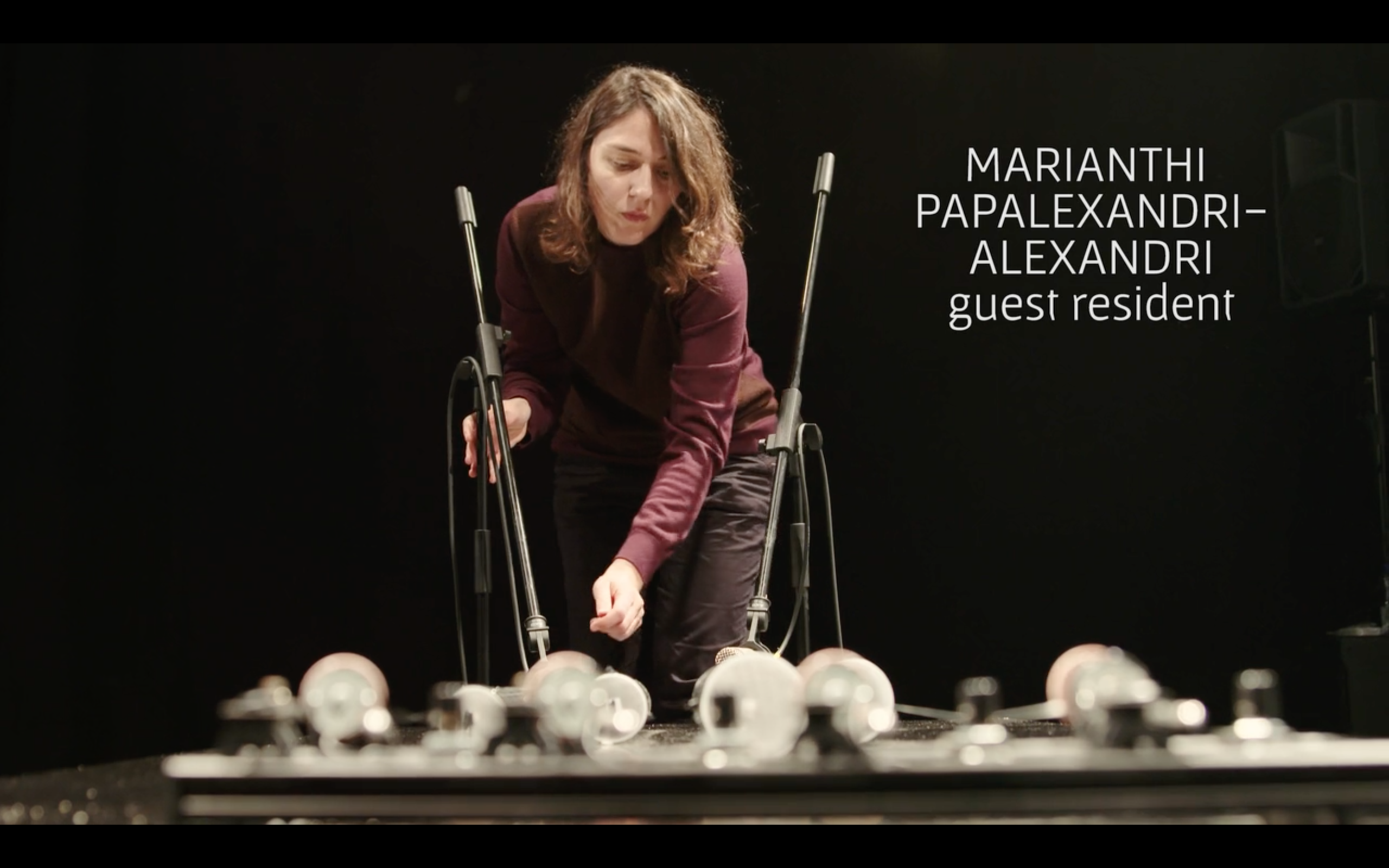 Traditional Press
One of the main areas that iii seeks to boost is reaching traditional press such as newspapers and magazines for articles and reviews. As a freelance writer himself, Richard was able to break down the steps needed to build long-lasting and fruitful relationships with writers.
1. Research
This first step goes through the work of identifying the people, organizations, and papers that we can build a press relationship with. An easy way to start is to go through a list of related organizations in The Hague and see who is writing about them. From there we need to find out the contact people of the magazines and papers, read their work and see if they could be interested in what iii does. The worst thing an organization can do is to send people information that they are not interested in. 
A step up from researching the main players in The Hague would be to go through relevant channels in surrounding cities. For iii that would be Delft, Leiden, and Rotterdam. We would need to figure out why someone would go to The Hague specifically for an event.
The last main element to research is the competition. It is important to identify who our competitors are, how we are different and how we could compliment them. It's also generally important to keep tabs on what's happening in the city and keep track of big dates.
2. Developing Relations
Once the names of relevant organizations and people are identified, the next big step is to actually meet people and get to know them. This is also where the principle of "hot communication" comes into play. One simple approach can be to socialize at networking events such as borrels where people from relevant press channels will be. Another is to invite people to come to events by giving them free passes with no strings attached.
With these approaches, the main thing to keep in mind is that this relationship, like any other, takes time to build and requires a mutual respect and gain. Most writers write for free so it's important to understand what they want, what they like, and what you can offer them. This can mean connections, stories, and free passes with other perks.
Another relationship that is important to develop in this process is that of the people who are already part of our world. One way to hone these relationships is to check up on people who have something to gain from revisiting their time working here. For iii this mostly means artists in our program. If artists are encouraged to write about their residencies and share their stories, this boosts iii's presence and helps circulate our image and message. 
In terms of offering stories, it is important to firstly note that journalists do not like having their stories written for them. Secondly, before sending a press release, the core message of any initiative needs to be clear.
The combination of meeting writers and editors in person, having a refined core message which is repeated by the people in our community who share their stories about iii, and finally sending a press release with tailored points will add up to writers having a clearer image of why they would want to write about an event or initiative. This goes back to the point in session 1 about making noise within iii's own community which can result in attracting the attention of the press.
3. Refine Message – Press release
In refining a core message, the transmission of the message and the reception of it are two key aspects that can be controlled. Transmission consists of the ways that you reach out to press via email and the information you give to them. Some very concrete tips:
-Start with a clear introduction to who you are
-Adapt your tone to who you are reaching out to. Are you contacting official press or a freelance writer? Is this a general call or a personal message?
-Be consistent in the information you're passing along. What you write in a press release should also be on your website.
-Keep the length of the email short
-In the email, explain why the story would be interesting to the recipient and ask if they would like to talk further
-Attach press releases as a PDF. It's also helpful to mention how long it might take to read the press release eg. "It takes just 3 minutes to read"
Within the press release itself, start with the most attention grabbing thing. Always make sure to answer the questions of what, why, who, where, and when. Within the Dutch context, also make sure to include both Dutch and English in the press release and stick to 1 page per language.
Here are some tips on information reception:
-Make sure that the content in the press release and the website match. Reaffirm the same information in the same order.
-Call people to follow up on the press release. Check if you are sending too much information or too many press releases
-Get their personal emails from Twitter accounts rather than from a newspaper website
-English language writers tend to be more open to picking up new stories than Dutch writers who will write a story if other people write about it. So it may be a good strategy to contact English language writes first. 
-Be clear in answering the following questions when pitching a story: Why should you write about it? Is it unique? Is it useful to your audience? Does it serve the public?
Audience Data
Previously iii was not so active in using our audience reach data other than to evaluate event attendance. In this segment we learned what kind of data could be useful to us, how to collect it, and how we could use it to strengthen our relationship with our audience and boost our reach.
When it comes to online analytics, Richard's advice was mainly to use the data from the big picture perspective, to target different large audience groups. In iii's case, it turns out our online audience includes two large groups: one of women ages 30 and below, and another of men aged 30 to 50+. We could use this information to highlight programs and artists that would appeal to these audience groups. The challenge is to turn these numbers into a creative story, to refine it and throw it back to the audience.
Another useful source of data comes from our newsletters. Through Mailchimp, we can see how many people and even who opens our newsletters. It is possible for us to then follow up on professionals who are opening our newsletters for professional connections. 
Something iii has neglected up till now is actively collecting qualitative data. Surveys are a useful tool for this but also simply asking new audiences how they found out about us would be very useful information. When we started trying this out, it turned out that most people find out about our public events through word of mouth, while others found our workshop program mostly through Facebook or instagram posts shared by friends.

PR Role
Iii's team is quite small, which often means that job descriptions can overlap. We wanted to clarify the role of a PR person to help streamline our workflow. We did this by dividing communication tasks between the main PR person and the rest of the organizational team.
Executive board, members and programmers determine together: 
-Who we are
-House rules/style/format
-Tone of voice
-Communication ambitions for the organization
PR person:
-Implements ambitions in communication plan
-Decided how to implement the communication plan in the allotted time. 
-Determines platforms to use
-Identifies target groups to reach
-Has overview of the program
-Shares data with everyone monthly (PR should not be in charge of collecting audience report)
-Is in charge of volunteers, delegating work and setting deadlines.  
-Gives regular evaluations with the PR team. Allows volunteers to pick and choose tasks based on what they like and what they are good at

SESSION 3: Conclusions and Implementation
We spent our last session drawing conclusions from what we discussed and sorting out what we wanted to implement in our own PR strategies.

Audience
We have identified our target audience groups as:

New talent that iii can support
Local creative community in The Hague and the larger Randstad area
International Art, Science & Technology professionals
Peer organizations in The Netherlands and abroad
Curators and programers
Journalists (local press and specialized magazines)
Mainstream cultural presentation platforms
Educational program directors and parents
Amateur artists and others who are interested in art and technology programs.

Through our discussions during our coaching sessions, we realized that it is important to address each audience group accordingly. This means choosing the appropriate tone and platforms to communicate to specific groups. In the past we used the plans prepared for fundraising purposes as the basis for the communication on our website. This had the consequence of making our communication very formal.
In the future we want our tone to be, on one hand, more playful and focused on reaching the audience who we want to attract to our shows (both hosted and circulation). On the other hand, institutional communication for funding and other purposes will still be important, but separated and placed in a less prominent position on our website.
We will also be focusing more on featuring people in our community (artists, program managers, and audience), personal experiences, and stories. We have already started implementing these ideas by featuring more faces of our artists and workshop participants.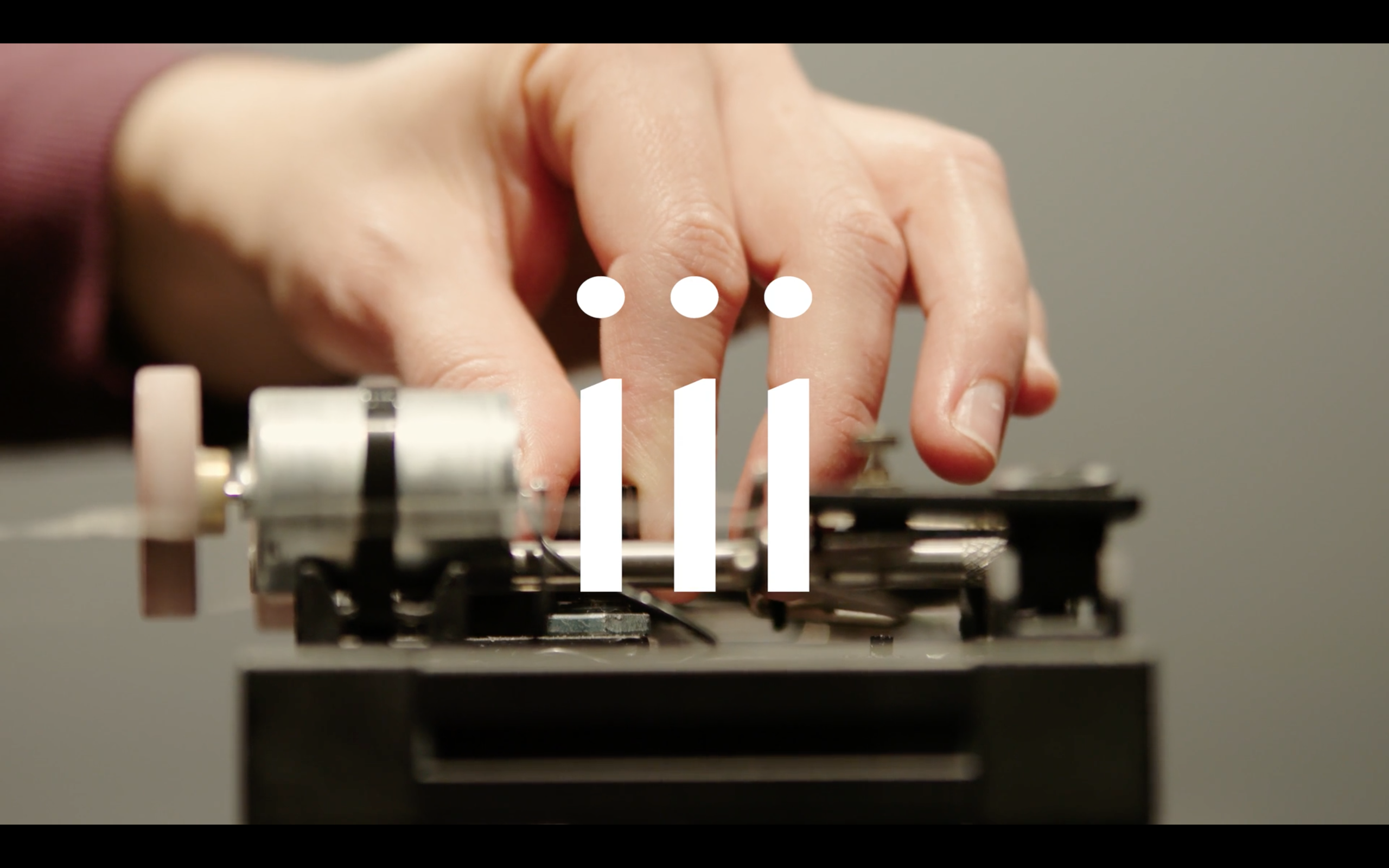 Branding
We want to rethink our branding with this personalized and community-centered tone in mind. We want to communicate as we speak and base our static information on a more open Q&A format. Since one of iii's main missions is to facilitate the activities of our community, we want our branding to be informed by our community.

This will start from our mission which we publish on our website. Instead of the usual formal list of values, we want to start from the questions "who are we? What do we do? How do you fit in?" in addition to things that we find exciting. 
Flyers and Stickers
We are now developing a new series of stickers and flyers in collaboration with graphic designer Márton Kabai. These print materials are visually playful and are aimed at getting new audiences to go to our website to find out about our program.

Website
With the help of Richard's feedback and our own discussions, we will be renovating our website next year. We have been using the same website for many years and it is time to update it according to how our program has developed in addition to how people currently use websites. 
The main structural changes will be to simplify the menu, divide static information from scrolling information, and generally optimize it for handheld devices. In the meantime, we can make short term changes, namely featuring more photos of people, and rewriting the textual information to make our tone more colloquial so that it speaks directly to our public. 
Traditional Press
As traditional press has been a weak spot for us, we will start developing relationships with journalists, beginning with researching the english-language marketing and press coverage of competitor artists and festivals. After getting familiar with some of their work, we plan to contact them and invite them to informal gatherings and to our events.
Data
We want to use any data that can inform us on who our audience is so that we can appeal to this audience and broaden our reach within these groups. For this reason, the most important data we should be paying attention to is audience attendance and the geographical location of our audience on both national and international levels. In addition to the PR manager sharing this data with project managers, it is important to discuss what works and what doesn't in evaluation sessions. This information can then be shared amongst other project managers. 
Workflow and PR role

To make the work of the PR manager more feasible, we will also be employing interns for a minimum work period of 2 months. The PR manager will delegate tasks that don't require a huge learning curve, such as creating content for social media or making drafts of the newsletter. The PR manager will also ensure that the house style, quality and formatting of each channel stays uniform.

We want to adopt the workflow structure of dividing work weeks into one content week where the practical information of events is collected and published, and one agency week, where more creative, spur-of-the-moment and fun content is developed by talking to iii members and audience members. We also want to streamline the workflow by having standard descriptions of each series to use as content placeholders in case project managers do not deliver their more specific descriptions on time.

We want closer collaboration and evaluation between PR and program managers. This means that in addition to the baseline work of publishing practical information on events, we want to evaluate the success of previous events and see what we can do to boost attendance in future events of the same series.

We also decided that the organizational team should have more in-person work sessions. Normally we only meet once a month to discuss the program, but we believe that more regular work sessions would encourage a more productive and organically creative work environment. This would also include informal meetings such as personal lunch meetings with the PR manager to facilitate closer working relationships and to generate and exchange more ideas in a lower-pressure setting.
Our 2021-2024 communications plan can be found here can be visually summarized in this graph: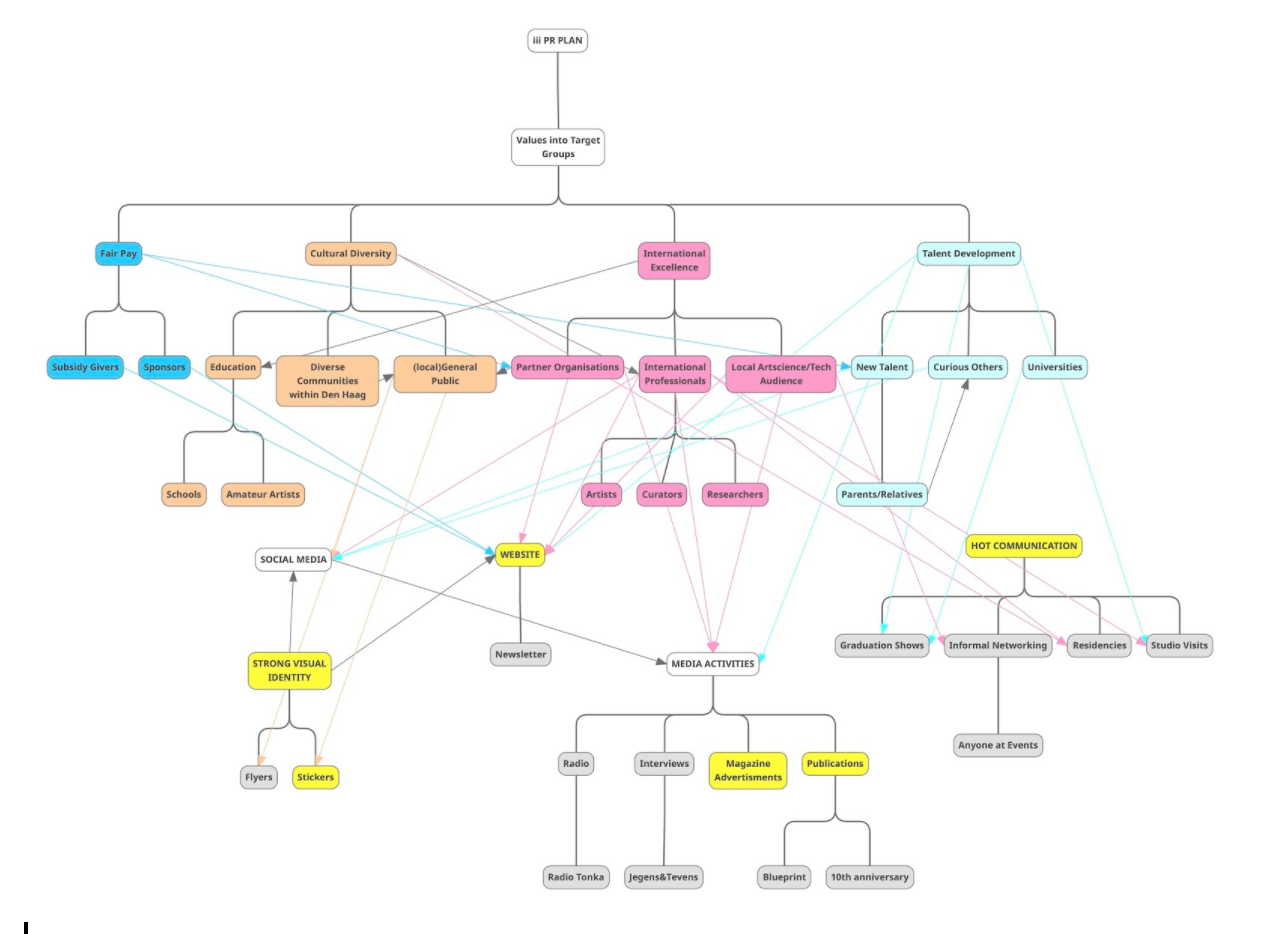 Conclusions
These coaching sessions with Richard have been helpful in helping us redefine our priorities and reevaluate how we communicate. As we have been successful in receiving multi-year funding for our program from 2021 to 2024, we look forward to putting these ideas into practice in order to support our future activities and our community.