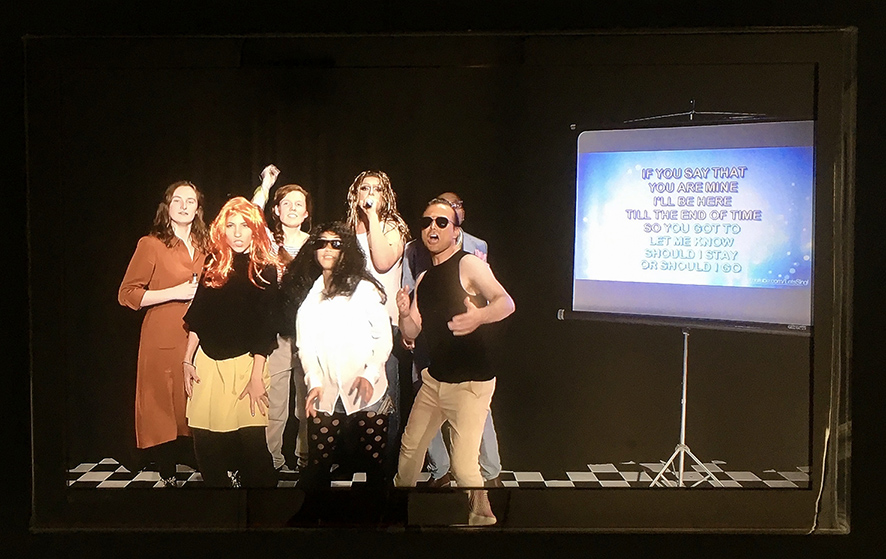 The exhibition "Should I Stay Or Should I Go" at Tetem Enschede was reviewed by Petra Boon on Jegens & Tevens. The show, is curated by Matteo Marangoni and featuring works by Wen Chin Fu, Matteo Marangoni, Daniël Siegersma, Davide Tidoni.
"Upon arrival we hear the song Should I Stay Or Should I Go by The Clash, the English eighties punk-rock band that scored a big hit with it, partly thanks to the use of the song in a jeans commercial. The karaoke version of the song summarizes everything the artists want to talk about in the exhibition: Karaoke as an analogy for popular culture and at the same time cultural pluralism, the lyrics of the song run parallel to migration issues: will I stay here or do I want to back to my homeland, and why?
The artists of the international artists' collective iii from The Hague connect performance, technology and the senses in their projects, whereby cultural diversity is always one of the basic concepts. This fits in well with Tetem's program line Walk in Worlds , in which the interaction between different cultures and worlds is discussed."
Read the rest of the review here.

"Should I Stay Or Should I Go" is showing at Tetem in Enschede until February 16, 2020, and will be shown at Quartair in The Hague May 29 to June 24, 2020.