The 21st century human body is at all times submerged within an ocean of man-made energies. Some of these waves carry within their flows and eddies the material manifestations of information, some are unintentional waste products of their sources, human inhabitation of a space that exists in the shadow of the chorus of sensation.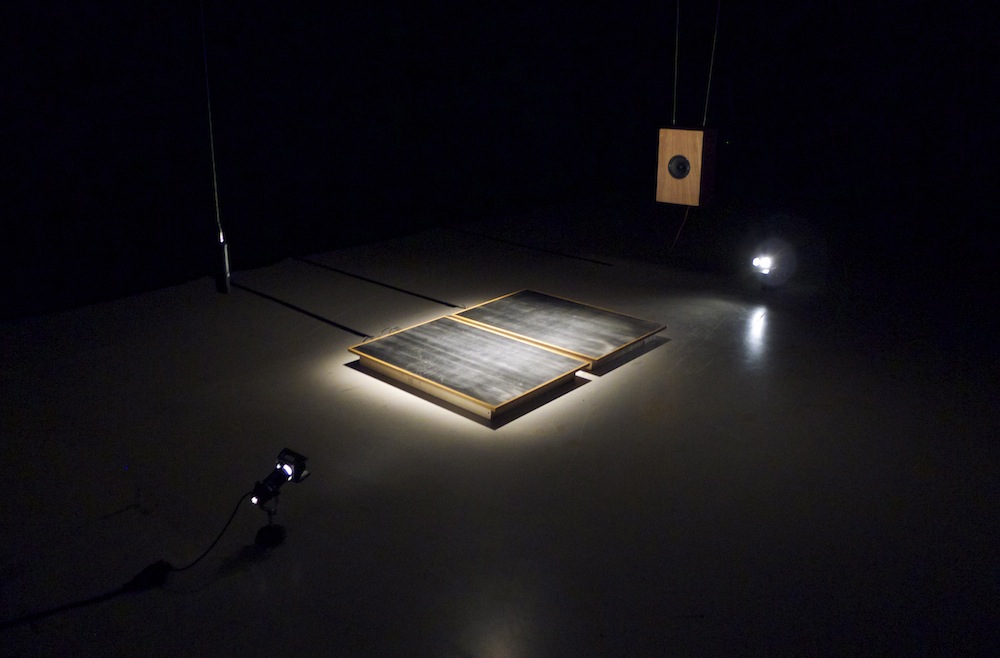 Satellite Skin is a series of performances that works with the vibrant and chaotic continuum between human bodies and ambient energy phenomena. Dancers' bodies are electromagnetically coupled to a specially prepared space that makes them integral to the signal-transfer of sonic feedback loops. Their bodies, movements and touch within the space immediately disturb the energy fields around them – causing sonic forms and gestures to emerge from the feedback.
The underlying techniques used in this work are culled from fundamental research into certain abandoned body-centric telecommunication technologies developed at MIT in the mid-1990's. The choreography itself draws on the utopian technological mythos – time and space are gone while intimacy is untouched.
Supporting the performance is a stage functioning as a massive pair of coupling electrodes, transforming the performers into human instruments – the dancers physically embody the signals, becoming one with the phenomenon while extending it from acoustic space to interpersonal space.
Satellite Skin as installation
An interactive sound artwork based on Satellite Skin, looking to explore the entanglement between human bodies and ambient sonic energies. Two platforms constructed carefully from steel and wood placed in an intimate setting act as a stage for gallery visitors to explore sensations of touch and sound – when two people sit or stand on the platforms their bodies become enmeshed in the an electric field generated by the apparatus. The disturbances their bodies cause within the fields causes audible feedback loops to emerge in the space, turning the visitors into human instruments.
The techniques used for this artwork are derived from 1990's research into methods for making telecommunications technologies more human – at the time the sense of touch was believed by these researchers to be the missing link between the virtual and physical landscapes of experience. Here these techniques are used as a sensuous remediation of the industrialisation of ephemeral space.